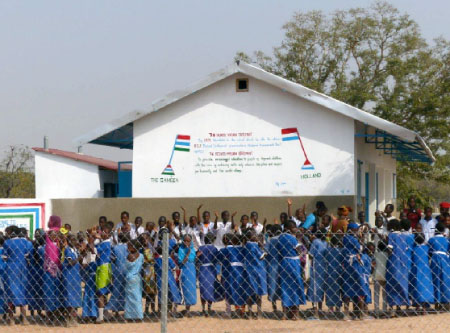 Medical Research Council (MRC) Holland foundation, Monday inaugurated a classroom block at the Yundum Military Barrack Basic Cycle School it sponsored. The education facility project includes 12 class rooms, 18 toilets and stores.

Speaking at the inauguration, Faraba Joof, representative of regional 2 education directorate said MRC Holland foundation is a great partner in the development of the education sector.
He commended the foundation for its efforts and contribution in the provision and construction of the structures for the school.
'The ministry cannot do all alone, so your intervention in this is well noted and appreciated," Mr Joof said.
He urged both students and teachers to redouble their efforts in the teaching and learning process to produce better results, adding that a more conducive and convenient learning and teaching environment has now been provided to the school.
"I challenge you to be more focused and determined as ever before. All students, teachers and the community at large should take great care of this structure," he said.
Principal of the school, Lamin Sanno said the gesture would help move the school to another milestone in educating the 'cream' of the society, while assuring the donor that the materials and structure will be well utilized, maintenance and reserve for their purpose.
Representing the chief of defence staff of Gambia Armed Forces, Brigadier General Mamat O Cham said the school have been built to the required quality, adding that Gambia Armed Forces realized that in supporting the future of the country, scarce resources need to be invested to provide accessible and quality education to the children of soldiers and others in the surrounding.
"The character and type of any society is based on the education that is provided to the children and the help of building such a structure is a great contribution toward building the future of the nation,' Army Commander Mamat O Cham said.
Maureen Schouten, representative of MRC Holland Foundation said the structure is given to the school in order to enhance effective learning and teaching environment. Adding that, the school should make good use of the structures.
Read Other Articles In Article (Archive)