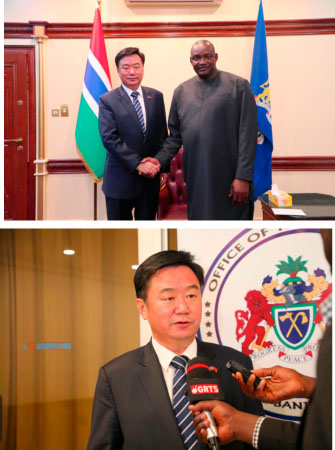 On 10 February 2020, Ambassador Ma Jianchun met with H.E. President Adama Barrow at the State House in Banjul.

Ambassdor Ma briefed President Barrow on the latest development of the novel coronavirus pneumonia (2019-nCoV) outbreak in China and China's tremendous efforts in containing it. Thanks to those comprehensive and rigorous prevention and control measures, significant results has shown recently and spread of the outbreak has been curbed effectively. The daily new added confirmed cases has been going down. Hundreds of patients, after timely and proper treatment, recovered and stepped out of hospital everyday. Ambassador Ma further commended the understanding and support rendered by the Gambian side since the very beginning of the outbreak. He emphasized that the safety and health of the Gambian nationals in China are of equal importance as the Chinese people, which has been well taken care of. He believed that China is not far from winning the battle against the outbreak.
President Barrow conveyed his sympathy and solidarity with his counterpart H.E. Xi Jinping and the Chinese people, and appreciated China for taking decisive and scientific measures in containing the pneumonia outbreak and the significant progress being registered so far. He said that battling against the outbreak is and shall never be the sole business of China itself, which calls for concerted efforts of the whole international society. President Barrow expressed his strong confidence in China's ability of winning the battle against the outbreak, and emphasized that the Gambian people are always in solidarity with the friendly Chinese people.
President Barrow and Ambassador Ma also touched upon the bilateral practical cooperation in many fields and exchanged views on further strengthening the existing friendly relations between the two countries. During which, Ambassador Ma mentioned that the Chinese government has decided to offer about 5000 metric tons of humanitarian emergency rice aid in mitigating the effects of extreme weather last year. A new batch of medicines, medical equipment and patrolling vehicles will soon be handed over to the Gambian side aiming at helping strengthen the existing public health and medical system, which means much more at such a critical moment of preventing the pneumonia outbreak.
Read Other Articles In Article (Archive)