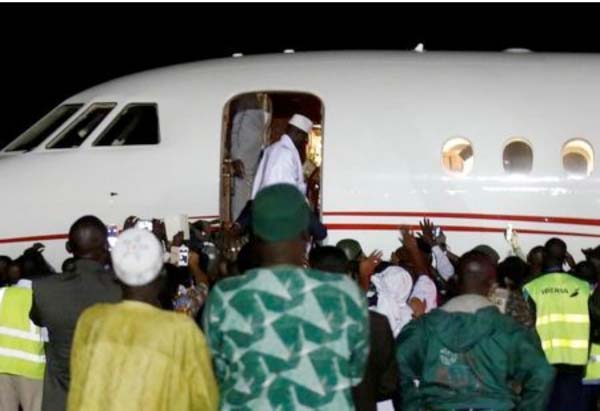 As Yahya Jammeh, together with his wife and son, boarded the Guinean national aircraft for Equatorial Guinea via Conakry, the mood at the airport tarmac was somber.

With each step Jammeh took up the stairs towards the door of the aircraft of Guinean President Alpha Conde, a lot of people, including the airport authorities and Jammeh's protocol, wept heavily.
Some women who were wailing were heard saying, 'daddy, daddy, you are leaving us behind' as they bent down to use the edge of their green T-shirts, with the photo of Yahya Jammeh, to wipe their tears.
Unlike the others, the soldiers in the presidential guard did not wail, but tears rolled down their cheeks as they stood motionless. With guns in their hands and hand-grenades in their chest pockets, the soldiers did not even try to hide their tears.
One female soldier was even taken out of the crowd as she sobbed uncontrollably.
The cry was not because of the fact that, for the first time in 22 years, Mr Jammeh left The Gambia on another nation's plane different from the one on which is written 'Republic of The Gambia'.
It was because of the affinity built with him over the past 22 years of his leadership.
Jammeh was airlifted out of The Gambia with the Guinean president, Alpha Conde, on the presidential flight of Guinea Conakry.
Jammeh left The Gambia following the success of the last minute diplomatic negotiation to end the political impasse that followed his [Jammeh's] total rejection of the result of the 1st December presidential election.
Jammeh lost the election to Adama Barrow, but rejected the result barely a week after accepting it, causing weeks of fear, anxiety and uncertainty in the country and beyond.
When the first two diplomatic mediation missions of Ecowas failed to get Jammeh hand over power peacefully to the winner of the election, Ecowas sent its standby military force with a mandate to get Jammeh out.
When the troops arrived at the borders of The Gambia determined to enter, Mr Conde of Guinea arrived in Banjul with a delegation including the president of Mauritania, as a last ditch effort to peacefully solve the impasse.
After about 10 hours of diplomatic manoeuvers, Mr Jammeh announced in a televised statement aired on state television, GRTS: "I have decided today [Friday] in good conscience to relinquish the mantle of leadership of this great nation."
As part of the 14-point agreement that made him to step down, Jammeh was to "temporarily leave The Gambia" on Saturday, and he eventually left.
Read Other Articles In Article (Archive)