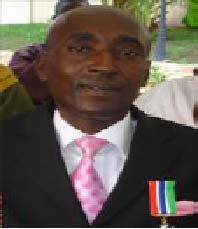 The lower court in Banjul yesterday adjourned the case on giving false information and sedition involving lawyer Moses B. Johnson Richards, after Magistrate Alagba said he needed to familarise himself with the case.
When the case was called, the state counsel, Simoen Abi, told the court that the case was adjourned for continuation of the hearing.
However, the trial magistrate told the court that he needed time to familarise him with the case, as he was just coming into the case.
Meanwhile, lawyer Antouman Gaye of the Gambia Bar Association told the court: "Your Worship, I wish to direct the court to the records of what has transpired at the last adjournment date. Certain undertakings have been made by the prosecution to either proceed or the case be struck out from the court."  
Senior counsel Gaye pointed out that the prosecution cannot bring the case to court and still not want to proceed.
He said it would not be fair for the accused person to be coming to court without the case proceeding, noting that any further adjournment would not be fair to the accused person.
"Your Worship says he needed time to familiarise himself with the case file, but this is a fresh case and nobody has ever testified in the case. However, Your Worship is the master of the court; but the defence has not seen any reason why the case should be adjourned."
Responding to defence counsel's objection for an adjournment, the state law officer agreed that justice delayed is justice denied, but that delay is unavoidable in certain instances
Subsequently, the defence objection was overruled, and the case was adjourned to 3 February 2011 for hearing.
In a separate development, the trial of Ensa Badjie, former Inspector General of Police and Tijan Badjie, former prosecution officer at Banjul Division, was also adjourned yesterday at the Banjul Magistrates' Court  before Magistrate Alagba .
The state counsel, MB Abubakcar, told the court that the counsel involved in the case was engaged at the high court and applied for a stand-down, but defence counsel L.S. Camara told the court that the stand-down was not possible, since he had another case to go to.
The case was subsequently adjourned till 9 February 2011.
Read Other Articles In Article (Archive)