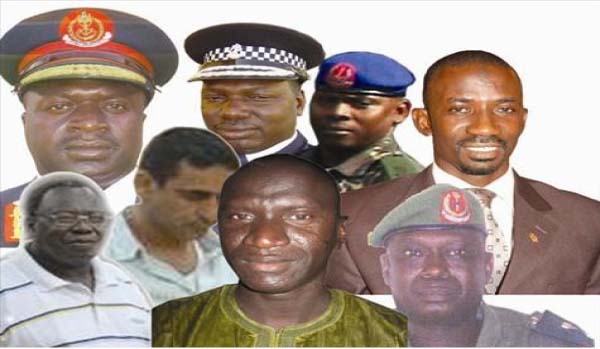 The prisoners amnestied were those who were convicted and imprisoned, during the period from 1994 to 2013, for various specified offences, including treason, murder, and drug trafficking.
Among those released were prisoners on death row or serving life imprisonment.
President Jammeh announced he was pardoning these categories of prisoners, in his address during the 21st anniversary celebration of the July 22nd Revolution, held last Wednesday at Arch 22 in Banjul.
The prisoners were released on Friday at a ceremony held at the headquarters of the Gambia Prisons Service located at Mile 2 just outside Banjul.
It was graced by Ousman Sonko, Minister of the Interior, and Lamin Nyabally, the Secretary General, Head of the Civil Service and Minister for Presidential Affairs, and other senior government and security officials.
The government officials, before releasing the convicts, gave them some words of advice on behalf of President Yahya Jammeh.
They asked them to be of good behaviour and to be good ambassadors of the country.
The Gambia belongs to all Gambians and, as such, "we should all ensure that we positively contribute our quota to national development."
They informed the gathering that the exercise of the presidential prerogative of mercy took effect from 22 July 2015, and it covered crimes involving murder, treason, drug trafficking, robbery and other related offences.
They further stated that with such forgiveness, the President has turned a new page.
The President has further extended an olive branch to all those in the Diaspora, as well as all political opponents who might have committed crimes, and has asked them to feel free to come home.
However, he has cautioned that any person who errs on the side of the law will pay the price.
"The President has a very good heart for you people by deciding to pardon you for whatever crime you have committed; that is why today all of you are going home to be reunited with your families again," they said.
They finally emphasised that the unexpected gesture of unqualified forgiveness to these ex-convicts by the President, who is a devout Muslim, is worthy of emulation and appreciation by all.
Below is a list of some of the pardoned prisoners and the year of their conviction:
In 2000, Lt. Landing Sanneh, convicted of treason, was jailed for 16 years.
In 2006, four army officers, Captain Bunja Darboe, former army PRO; Captain Yaya Darboe, Captain Wassa Camara and Private Pharing Sanyang, were also convicted of treason, and jailed for life.
Others, also convicted, were Captain Abdoukarim Jah, jailed for 20 years; Ex-Accountant General Alieu Jobe, jailed for 20 years; Captain Pierre Mendy, jailed for 10 years; and Alagie Nying, also jailed for 10 years.
In 2009, six army officers and one civilian charged with coup plotting were jailed for life. They are Lt General Lang Tombong Tamba, the former CDS; Momodou Gaye, Ex-deputy IGP; Brigadier General Omar Mbye; Lt Colonel Kawsu Camara; Bo Badjie, ex-Director General NIA; Ngoor Secka, former deputy Director General NIA and later ambassador of The Gambia to Guinea Bissau; Omar Faal; and a civilian Abdoulie Joof, who was a clearing and forwarding agent.
Other convicts, who were serving two-year jail terms, also got released. They are Lamin AMS Jobarteh, former minister of Justice and Attorney General; Pa Harry Jammeh, former Solicitor General; and Dr Njogou Bah, former Secretary General and Head of the Civil Service and Presidential Affairs minister; and Essa Badjie, former Inspector General of Police.
Among the ex-convicts who spoke to journalists were Lt General Lang Tombong Tamba, the former chief of defence staff. He was thankful to the President, his mother and the first lady for pardoning them.
"I am renewing my loyalty to the Gambian leader who has such a wonderful heart to pardon us; I therefore pray for good health and long life for him," he said.
"I am sure the President must have been having this in mind to pardon us long time ago, but anything in life is about time; it was not yet time for him to pardon us. So today was the right day to release us to go and be reunited with our families," he said.
"Once again on behalf of my family and all those pardoned prisoners, I thank you Mr President for this wonderful gesture. May God give you long life and happiness in your life," he said.
All other pardoned prisoners expressed similar sentiments.
They included Cpt Bunja Darboe, Cpt Yaya Darboe, Foday Gassama, Ngoro Secka, Momodou Gaye, Cpt Wassa Camara, Abdoulie Joof, Cpt Pierre John Mendy, Lt Landing Sanneh, Omar Faal, Lt Colonel Kawsu Camara, Dr Njogu Bah, Lamin ASM Jobarteh, Pa Harry Jammeh, Essa Badjie, Lamin Bo Badjie and Babu Janha, Samba Bah, Essa Baldeh, Sulayman Sarr, Omar Dampha, Abdoulie Sonko and Alieu Jobe, among others.
Meanwhile, 46 foreign nationals who were lucky to be among the pardoned prisoners were also released, and are to be deported immediately to their home countries.
They included the cocaine convicts from Holland and Venezuela.
In a related development, 12 relatives of the December 30, 2014 attackers, including the mother of the late Commander Sanneh have also been released.
Metta Njie, mother of the late Lt Colonel Lamin Sanneh, ex-State Guard Commander and ringleader of 30th December attackers, was thankful to the Almighty Allah and the President for pardoning them.
She said that during her detention at the NIA headquarters in Banjul, she didn't have anything to complain of, since all the time officers on duty were always consulting her on whether she needed food or her medicines.
She was really appreciative of their services during her custody.
In a separate development, a former cabinet minister Mamburry Njie and Kebba Touray, a clearing agent, who were both on detention, were also released on Thursday 23 July 2015.
Furthermore, the President on Friday pardoned more convicts.
According to a press release aired over the state TV, the Office of President had granted amnesty to all those convicted before 1994.
Murder and drug convicts
Prisoners at Mile 2 State Central Prisons convicted for drugs and murder, and pardoned by President Yahya Jammeh during the 21st Anniversary of the July 22nd Revolution were also released from Prison on Friday.
The released convicts extended gratitude, best wishes, as well as prayers for the Gambian leader for setting them free.
Some of the drug convicts were sentenced to more than ten years, and some murder convicts were serving life imprisonment, with some on death row.
Among those pardoned by President Jammeh were foreign nationals from Senegal, Nigeria, Mauritania and other countries in Europe and South America. All the foreign nationals are to be deported.
Abdoulie Gaye, a Senegalese national from Mbour, a cannabis convict, thanked President Jammeh for his benevolence and prayed for long life and good health for the Gambian leader.
Edie Ngum, also a Senegalese national from Touba, another convict of cannabis, prayed for the President and the entire Gambian populace. He also prayed that the President's benevolence is extended to other convicts in the prisons.
Momodou Jah, a Mauritanian convicted of murder, thanked President Jammeh for pardoning him, saying forgiveness is very important in Islam as is stated in the Quran.
Kebba Camara and Lamin Fatty, Gambians convicted for murder, also thanked President Jammeh for coming to their aid.
Fatty said: "We are so touched and full of joy, and all I can say is 'thank you President Jammeh for making it possible for me to reconcile with my family once again.'"
Fatoumatta Jorbateh, a female convicted for murder, thanked the President and Allah for her release.
Ouley Sonko, also a murder convict, thanked President Jammeh for setting them free after they had lost hope of being free again.
Haddijatou Jammeh, another murder convict, said she was happy to be free again and thanked the President for pardoning her.
In his address, Lamin Nyabally, the Minister for Presidential Affairs, said everyone is very happy, as a result of the President's benevolence and sympathy for humanity and his people.
During the Ramadan, he pardoned 85 prisoners for God's sake, the Presidential Affairs minister said, adding that even though those prisoners were in conflict with the law, the President decided to pardon them.
On the occasion of the 21st anniversary of July 22nd Anniversary, the President also pardoned over 200 prisoners, Minister Nyabally added, and he did it for God's sake and the love of his country and people, because "he knows that he is the only one who could do it."
He added that even those that offended the Government and ran away, and have been afraid to return to the country have been pardoned by the President.
"These are people who said bad things and lies about the country, but that does not stop the country from growing and moving forward," he added.
"I am advising you, on behalf of the President, now that he has forgiven you: don't let yourself to be victims of the law again, because everyone that has been released today your name has been recorded, and when you happen to be in conflict with the law again, it will be very difficult for you," SG Nyabally said.
Imam Momodou Lamin Touray, president of the Gambia Supreme Islamic Council, in his remarks, said that anything that happens to human beings is the will of Allah.
He said the convicts were pardoned and released, because Allah has given them a leader who allows the will of Allah to happen through him.
Those released from prisons should note that the President or his government did not send them to prison, he said, as their ultimate fate is as a result of what Allah has willed, he added.
Read Other Articles In Article (Archive)