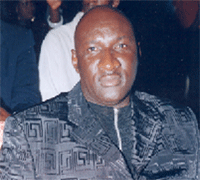 The ongoing false information trial of Musa Suso, a former National Assembly member for Kombo North, continued on Tuesday at the Bundung Magistrates' Court with the testimony of two more witnesses.
Testifying before the court, Ebou Khan, the sixth prosecution witness, said he was a Supervisor in one of the then ELF petrol stations and that he is a resident of Banjul. According to him, he knew the accused when he was a National Assembly member for Kombo North. He revealed that on 20th May 2008, he received a phone call from the accused person who told him that he wanted to have a chat with him.
Khan told the court that Suso gave him a document and asked him to sign and then told him to hand over the said document to one Yankuba Sonko, but instead he handed over the document to the then CMC Ensa Badjie, who is now the IGP.
According to Khan, Suso then started to tell him that David Colley is not a good person and that he would like to connive with him to implicate him.
He testified that he went to one of Musa Suso's friends, called Papa who asked him whether what Suso was telling him was the truth, but he replied that he'd never supplied gas oil to David Colley.
According to him, in the afternoon, Musa told him that there were some high-ranking individuals behind the matter.
"He told me that if I sign the document then these personalities will be very happy with you," the witness told the court.
He added that "Musa Suso called him later and told him he was not happy with him as he had not done what he had asked him to do, but he told Musa that the issue was between him and David Colley and that he had nothing to do with it".
On his employment status, the witness confessed that he was laid off from his former workplace, but added that he has never been prosecuted.
Next to testify was Bakary Wharf Kujabi, a Prison Officer attached to Mile 2 Central Prison.
Mr. Kujabi, who is a prosecution witness number seven, said he is a nurse-in-charge and holds the rank of Assistant Superintendent of Police (ASP). He further told the court that he knew David Colley, whom he said, is the Director-General of Prison and that he has been attached at the clinic since 2001.
Asked by the Prosecutor, Superintendent Tijan Badjie, "to clarify whether it is not a procedure when a prisoner dies that the first thing that they do is to call his or her family members and take them where the deceased is, with a view to identify the body".
In reply, Kujabi said a death certificate is provided and that the consent of family members is sought as to whether a postmortem can be carried out on the body of the deceased.
He said should the family members object to the postmortem, they go to a Justice of Peace (JP) to swear to an affidavit.
He added that after the above mentioned, they go to Police Headquarters to fill the postmortem form and then go to a Magistrate to confirm that relatives do not want a postmortem to be carried out on the body.
Mr. Kujabi said having done the above mentioned; the Magistrate would sign and stamp the affidavit. PW7 stated that the documents in question are then made into four copies: one copy each is given to relatives of the deceased, mortuary, nurse-in-charge and the Ministry of the Interior.
As to what happens when a dead body is not identifiable, Mr. Kujabi said they inform the RVTH's PRO, who will then make an announcement on the radio and television, informing the public to come and identify the body, and that if they fail to yield any result, they will then call the Criminal Records Office, who would allocate an officer to come and take a photo of the deceased and his particulars.
He added that they would then call the Banjul City Council to bury the deceased. As to whether there is any law, which says that an inmate or remand prisoner should be subjected to postmortem when he or she dies, ASP Kujabi replied in the negative.
He further told the court that there was no time when a dead bull was brought to Mile 2 for prisoners' consumption.
Under cross-examination by Defence Counsel Lamin Jobarteh, ASP Kujabi said he was born in Dobong Village and that his father's name is Burama Kujabi.
Counsel Jobarteh put it to him that there is no such name in Dobong, but instead the name is found in Kayaborr, an assertion he totally disputed.
Further asked whether it is correct that he was living with the Kujabi family in Dobong, he replied that he was residing in the same compound with Abdoulie Kujabi, former NIA Director-General.
He further stated while under cross-examination that he attended St Edward's School and completed Grade nine in 1996.
At this juncture, Defence Counsel told him that the certificate he produced to be enlisted into the Prison Department indicates that he attended Fatima High School and the name in that certificate is Babucarr Kujabi, but he replied in the negative. He maintained that he had never used the name Babucarr Kujabi.
But he admitted to have known one Babucarr Kujabi now out of the country, who worked at NIA. Regarding his results at Grade nine, Kujabi said he scored aggregate 28 (twenty-eight). He said he got grade six, five, seven and seven in Maths, Science, English and Islamic Studies, respectively, but could not remember the exact grade he scored in Agriculture.
He also admitted that his mother's name is Fatounding Bojang after it was put to him by the Defence Counsel.
ASP Kujabi also confessed that in fact, he is an Auxiliary Nurse and the Defence Counsel put to him that the role of an Auxiliary Nurse is to support a Nurse or Doctor.
As to whether he would be comfortable should his school certificate and application form be brought before the court, he responded in the positive.
Defence Counsel made an application for the said documents to be brought before the court. 
This was granted despite objections by the Prosecutor who argued that those documents have no relevance to the charges before the court.
The case was adjourned to 6th October 2009.
Read Other Articles In Article (Archive)