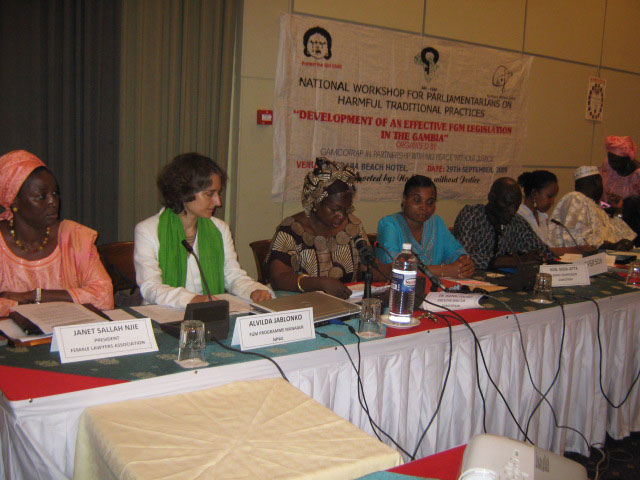 The country's parliamentarians alongside religious leaders and legal practitioners who took part in a daylong national workshop for National Assembly Members on harmful traditional practices have admitted that Female Genital Mutilation FGM is a harmful practice, and urged for possible legislation against it.
The workshop, organised by the Gambia Committee on Traditional Practice GAMCOPTAP, in collaboration with No Peace Without Justice (NPWJ) was held at the Kairaba Beach Hotel on Tuesday. It aims, among other things, to work towards putting up a law against FGM in The Gambia.
In a statement delivered on her behalf by Mrs. Ramou Cole-Ceesay, Dr. Mariatou Jallow, the Minister for Health and Social Welfare, said that The Gambia government is committed to the promotion of women and girls' health, particularly, their sexual and reproductive health and rights.
She added that The Gambia has signed and ratified a number of international conventions and declarations to protect women and girls. 
She lamented that every year women die of complications associated with child birth, noting that some of the contributing factors are related to the effects of traditional beliefs that are deeply rooted in society.
"The passing of the Children's Act in 2005 by the National Assembly, development of policies to incorporate components of the international conference on population and development which also includes harmful traditional practices affecting maternal and child health, such as female genital mutilation, early marriages, among others, are also typical examples," she noted.
The Health Minister hailed the advocacy strategies and social mobilisation process undertaken by GAMCOTAP, thus alluding to the fact that it has increased the level of awareness on the effects of FGM and early marriages, in particular.
"It's another giant step to engage the new parliamentarians in the process to be able to make informed decisions to protect girls from FGM and early marriage," she added.
Speaking earlier, Dr. Isatou Touray, the Executive Director of GAMCOTRAP, said parliamentarians have been her organisation's primary target group in promoting and protecting the rights of women and girls from harmful traditional practices.
She commended the Deputies for their active and constructive participation in the retreat. Dr. Touray reminded the NAMs that FGM is inimical to the health, well-being and the rights of the girl child.
Other speakers included Ms Alvida Jabloka, a representative of NPWJ, who expressed her admiration with the high level of participation at the forum and Gamcotrap for their efforts.
The opening ceremony was chaired by Hon.Sidia Jatta, NAM for Wuli West.
Read Other Articles In Article (Archive)