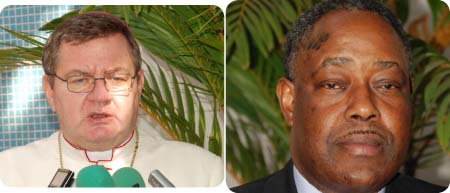 In yet another flurry of engagements, President Jammeh on Tuesday received four other new ambassadors, who were at the seat of the presidency to present their letters of credence as ambassadors of their respective countries to The Gambia.
The new ambassadors are Rev. Monsignor Miroslaw Adamezy of the Vatican, Pierre Michel Nyuimbi of the Republic of Congo, Witold Spiry Dowicz of Poland and David Jonathan Richardson of Australia.
Speaking to waiting reporters after presenting his letters to the Gambian leader, the new Vatican ambassador told reporters that he discussed at length with President Jammeh about the role of every religion in society and also talked about Catholic education in The Gambia.
''I appreciated the spirit of tolerance in respect of religion in The Gambia. The Gambia can be a model for many countries and the world in terms of religious tolerance and respect for everyone,'' he stated.
The new Congolese chief diplomat to The Gambia described his meeting with President Jammeh as a great ceremony that marked the launching of fruitful relations between The Gambia and the Republic of Congo.
According to him, people of the two countries are very fortunate in the sense that President Jammeh and his Congolese counterpart are great friends and brothers.
Describing the relationship between the two leaders as excellent, the Congolese ambassador said their duty as ambassadors is to translate those relations into socio-economic developments for the betterment of the peoples of the two countries.
''I also let him know that the heads of diplomacy of the two countries are working hard to make sure that there is a joint commission organized between the two countries at least to target key areas in socio economic development of the two countries,'' he stated.
The date for the joint commission, the Congolese ambassador added, is going to be determined after doing his report on the presentation of his letters of credence to the Gambian leader.
He stated that during his stay in the country, he will visit certain ministries to see where there is need for mutual cooperation between the two countries.
The new ambassador of Poland, for his part, expressed his commitment to promote direct policy investment in the country and promote tourism.
''There will be student exchange of programs between the two countries,'' he stated.
The Australian ambassador also told reporters that his conversation with President Jammeh reflected very positive and friendly relations that Australia has traditionally enjoyed with The Gambia.
According to him, there are quite a good number of Gambian civil servants and people in different sectors who were trained in Australia, through the Australia Award for Africa scholarship program. 
Read Other Articles In Article (Archive)