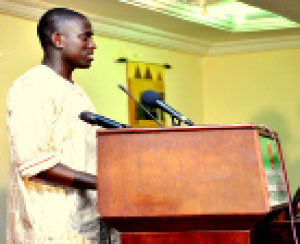 As the art of writing among young prolific Gambian writers continues to go a notch higher, a sound Gambian economist and writer has again published a new book titled 'The Way to Happiness; Inspirational Essays'.
Momodou Sabally, who has authored several books, has added this fascinating book to his cabinet of books.
The Way to Happiness: Inspirational Essays is a collection of inspirational essays that is the culmination of more than ten years of writing, says Mr. Sabally.
Against the backdrop of a world of economic and financial turbulence, this book shows a path to a happy and successful life.
The book, published in The Gambia by Fulladu Publishers, is now available at Timbooktoo Bookshop.
The essays cover a variety of material: self-help and motivational articles, commentaries on social issues, political discourse, and sport as well as the author's encounters with inspiring personalities like Barack Obama, drawing from them lessons for successful living.
Diverse as the subject matters may be, they are all tied together in one thread: the author's desire to inspire individuals and society.
Momodou Sabally is the author of Jangi Jollof: a Memoir on The Gambia's First University Programme; Secrets of the World Champions; and Instant Success: Ten Keys to Personal Achievement.
He currently works at the Ministry of Finance and Economic Affairs as Director of Budget and continues to write books and articles that inspire.
Read Other Articles In Article (Archive)