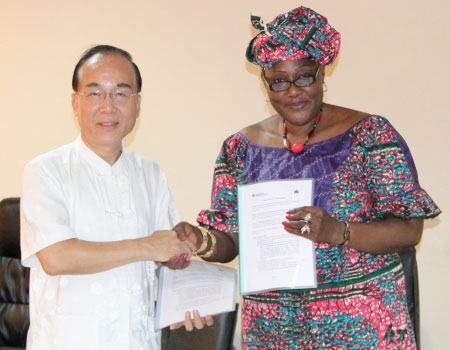 The Ministry of Information and Communication Infrastructure (MoICI) of the Republic of The Gambia and the Institute for Information Industry (III) of the Republic of China (Taiwan) yesterday signed a Memorandum of Understanding (MoU) about information, communication and technology (ICT) development between the two.
Speaking at the signing ceremony held at the MoICI along MDI Road in Kanifing, Taiwanese Ambassador Samuel Chen said the MoU, which will take effect immediately, is intended to reflect the present understanding between The Gambia and Taiwan and also promote the future cooperation about the ICT industry between the two countries.
The MoU is initiated by Taiwan III, which has dispatched a group to The Gambia and held an ICT workshop at the Paradise Suites Hotel on 16 April this year.
Through the arrangement of the Taiwan Embassy, the head of delegation Dr Meili Hsiao and her team successfully expressed the Taiwan experience and introduced the new technology of ICT services.
During their stay in The Gambia, the delegation also met the related officials in charge of the MoICI and the Ministry of Higher Education, Research & Technology to exchange ideas and information about the future cooperation of the ICT industry.
It is estimated that both sides of this MoU will set up a regular time schedule for workshops as well as mutual visits and government-level cooperation plans about ICT issues.
Eventually, this MoU will bring more opportunities for ICT operation in The Gambia and enhance the bilateral cooperation between Taiwan and The Gambia for ICT services.
Meanwhile, the MoU was signed by Ambassador Chen on behalf of Taiwan III while Permanent Secretary Nancy Niang signed for the MoICI.
Madam Nyang, while speaking on behalf of the Minister of Information and Communication Infrastructure, welcomed the development.
The signing ceremony was graced by the two deputy permanent secretaries of the MoICI, Lamin Camara and Malik Jones respectively.
Read Other Articles In Article (Archive)