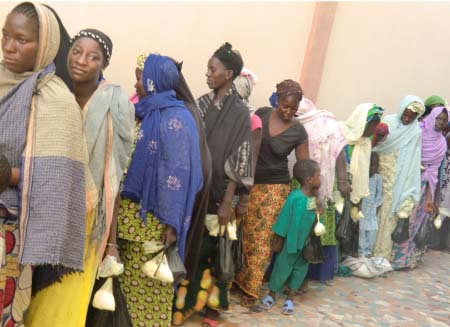 In yet another show of his philanthropist gesture, businessman Momodou Turo Darboe, who also doubles as Chief Executive Officer of Vision Development Foundation (VDF), on Friday donated Ramadan gifts worth over three million dalasis to Muslims across the country.
The package, which include bags of sugar, rice, onion, fish, dozens of loaves of bread and cash amounts, will be given to those Muslims in need daily in respect to the observance of the holy month of Ramadan.
The beneficiaries come from across the country including mosques, as part of Darboe's annual Ramadan gift to those who cannot afford it, as prescribed in the Holy Quran, for those who can afford it to give a helping hand to those who cannot.
An ardent Muslim himself, Momodou Turo Darboe declined to comment when contacted by this reporter, but was quick to say that he believes in the culture of sharing his God-given wealth with the poor and the needy, just as his late father used to do.
It should be noted that Turo occasionally donates generously to mosques, hospitals and schools across the country.
At his Banjul-based NGO Vision Development Foundation (VDF) office, a good number of students are currently benefiting from scholarships, all thanks to his generosity.
This is not the first time he is extending a hand of support to the less fortunate in society, as he has been giving rams to Muslims for Tobaski for the past 20 years.
Speaking at the presentation ceremony held at the VDF office in Churchill's Town, Modou Lamin Jagne, senior programme officer at VDF, said the presentation of gifts has been ongoing since the beginning of Ramadan and will continue to the end.
According to him, it is an annual activity for the VDF to provide basic needs to Muslims across the country, so as to enable the poor and needy observe Ramadan like any other person in society.
Jagne stated that VDF has no boundary in providing basic needs to the poor and the needy, young or old, noting that the foundation is here to see to it that the well-being of the most vulnerable people in society is addressed.
Describing the CEO of the foundation as a philanthropist who has the interest of the poor and the needy at heart, Jagne said the VDF believes in caring and sharing with Muslims not only in Ramadan, but whenever the need arises.
Noting that this is a month of blessing when all Muslims should showcase care and love for each other, Jagne said the VDF through its founder Modou Turo Darboe will always make it a point of duty to provide basic needs to the poor and the needy, most of whom find it difficult to have a daily meal, especially during Ramadan.
Highlighting some of the development activities of the foundation, Jagne stated that the VDF has over the years embarked on road rehabilitation, scholarships to deserving students, as well as assistance to Muslims and mosques across the country.
Speaking on behalf of the beneficiaries, one of them, Lamin Camara, described Mr. Darboe as a generous Muslim who is always helpful to needy people, either in cash or kind.
"All we need to do is to pray for his good health and long life," said another beneficiary.
Kaddy Fatty, a widow with four children, told The Point that she has been a beneficiary of Turo Darboe's Ramadan gifts for the past 15 years.
She described the gesture as timely, noting that without the intervention of Modou Turo Darboe, she and her family would always find it very difficult to have daily meals during Ramadan.
Other beneficiaries, who also spoke to this reporter, hailed Mr. Darboe for his benevolence, describing him as a wonderful person who contributes immensely to poverty alleviation. 
Read Other Articles In Article (Archive)