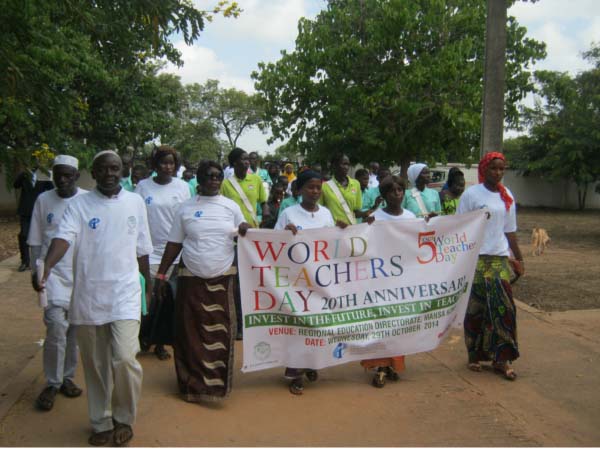 The permanent secretary at the Ministry of Basic and Secondary Education (MoBSE) has voiced support for the theme calling for investment in teachers by the Gambia Teachers' Union (GTU) in this year's commemoration of World Teachers Day.
"Invest in the future; Invest in teachers" is the theme of the commemoration held in Mansakonko, Region Four.
Baboucarr Bouye described the theme as apt and the most meaningful ever since the declaration of the annual event by UNESCO exactly twenty years ago.
"Investing in teachers, if it is not considered the most important investment, it could be considered as one of the most," he said.
He said there was a time in history when world economists would consider investment in education as consumption, but the genuine outcomes from the sector are enough to invert that pyramidal mentality of the same economists.
"When they started seeing positive returns in the area of health, agriculture and development, they began to realize that monies spent in education should not be considered as consumption," PS Bouye said.
He said this resulted in the argument that a country, more so a developing one, cannot have any investment made that is more important than investment in education.
PS Bouye observed that in this world of social and economic change brought about by the new information technology and globalization, education can be considered as the only hope for the future.
For the ministry, he went on, accommodation, remuneration and policy development have been the priority for the past decade, adding that the theme fits well within the strategic work undertaken by MoBSE over the past two years.
He admitted that despite a lot of work done, they have not satisfied all the workers.
"We have not cover all the teachers, but we've done a lot, we've got a lot more to do and we are committed to continue," he declared.
It would be recalled that the joint message by ILO, UNESCO, UNICEF, UNDP and Education International in the commemoration of World Teachers Day 2014 defines investing in teachers as investing in the future.
It further stated that "an education system is only as good as its teachers. Teachers are essential to universal and quality education for all: they are central to shaping the minds and attitudes of the coming generations to deal with new global challenges and opportunities."
Read Other Articles In Article (Archive)