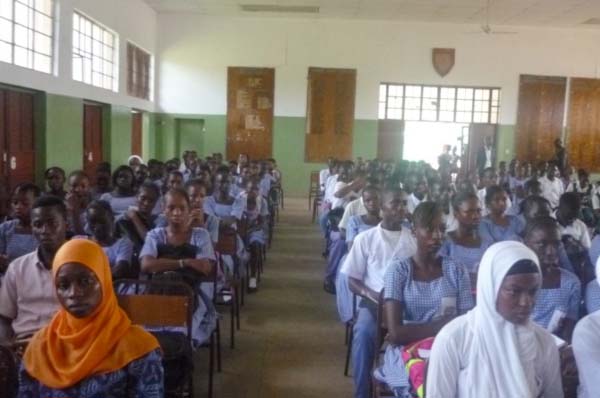 The Ministry of Basic and Secondary Education (MoBSE), in collaboration with UNICEF, on Thursday commemorated World's Largest Lessons at the Gambia Senior Secondary School in Banjul.

The World's Largest Lessons was developed to introduce children around the world to the Sustainable Development Goals (SDG) in a lively and engaging way.
This year's commemoration focused on SDG 5: Achieving gender equality and empowering all women and girls.
The event provided an opportunity for the children to learn more about the SDGs and its impact in their lives, communities and countries.
Speaking on the occasion, Baboucarr Bouy, permanent secretary of MoBSE, said the World's Largest Lessons is aimed at capturing the attention of children, as well as inspire millions of students in classrooms around the world.
The SDGs, as a successor to the Millennium Development Goals, was developed to mobilise efforts to end all forms of poverty, fight inequalities and tackle climate change.
PS Bouy noted that SDG 5 aims at ensuring that all forms of discrimination and violence against women and girls everywhere are eliminated.
"It further advocates for women's active participation and equal opportunities in all spheres of life and universal access to sexual and reproductive health.
"It also advocates for access to ownership and control over land and other forms of property."
Mr Bouy added that there is the need to adopt and strengthen sound policies and enforceable legislations for the promotion of gender equality and the empowerment of women and girls at all levels.
He noted that there have been huge improvement in enrolment of girls and boys at primary level through the MDGs, but there is still a gender gap in favour of boys with regards to secondary education.
"As we pursue the SDGs, filling the gender gap will be a priority for the education sector as articulated in the new education policy, 2016-2030," the permanent secretary said.
He further stated that achieving sustainable development calls for concerted efforts for the well-being of individuals and societies, and that every stakeholder is expected to contribute to the realisation of the new agenda.
Sara Beysolow Nyanti, UNICEF Gambia representative, said significant progress has been made by The Gambia towards gender equality.
"More women are now in management and decision making positions," she said. "Education plays a significant role in preventing gender inequality."
Mariama A. Jallow, head girl of Gambia Senior Secondary School, in her vote of thanks, thanked UNICEF and MoBSE for organising the commemoration at her school and for broadening their knowledge on the SDGs.
Read Other Articles In Article (Archive)