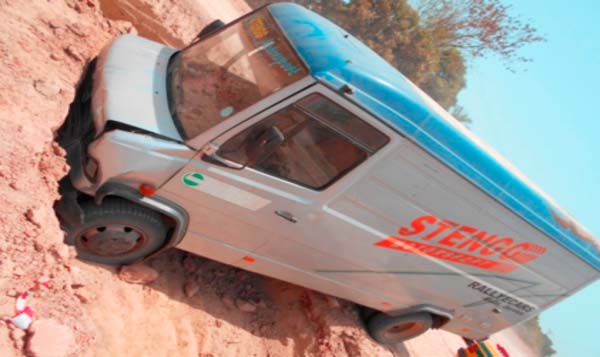 A minivan driven by Yankuba Sanneh had run into a two-and-half-metre deep hole on Latriya-Jambanjelly Highway on Friday at around 10pm, causing injuries to the driver and damages to vehicle.

The driver said he was carrying goods from Latriya village going towards Jambanjelly village on the highway when he suddenly plunged into the hole, which was dug by Arezki, the company constructing the road.
It was understood that the hole was dug across the road as a barrier to stop vehicles from using that highway because it is still under construction.
It was only the driver and his apprentice, Buba Barrow, who were in the vehicle when the accident occurred.
Modou Janneh, a businessman who is the owner of the vehicle, blamed the accident on the road construction company, Arezki, saying there was no reflector or any other thing to show that there was a deep hole across the road.
"The absence of any form of indicator at the hole had seriously contributed to the accident and that has caused damages to the vehicle and the driver and his apprentice," he said.
The driver and the apprentice were taken to Brikama Major Health Centre after the matter was reported at Sanyang Police Station.
"The driver most be compensated," Mr Janneh said, adding that the company's failure to make some safety precaution signs on the road led to the accident.
Matarr Jobe, site manager at AREZKI, said the company accepted 95 per cent of the blame but also argued that drivers were warned not to use that road because the construction is yet to be completed.
"Despite all sensitisations, drivers still give a ear deaf and continue using the road," he said. "However, we are ready to negotiate and compensate the victims [Mr Sanneh and his apprentice] and maintenance the vehicle to have it in tack as before the accident."
Read Other Articles In Article (Archive)