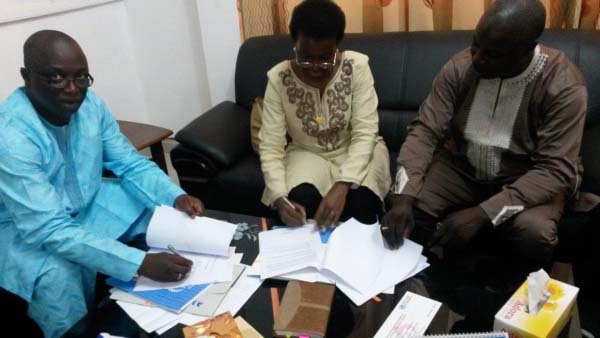 The minister of Health and Social Welfare, Dr Omar Sey, and the World Food Programme country representative, Victoria Ginja, on Friday 20 June signed a field-level agreement on targeted supplementary feeding (TSF), which will run from June 2014 to June 2015.
A press release said as part of this agreement, the ministry of Health through its structures at the regional, health facility and primary health care (PHC) levels will ensure extensive coverage and implementation of TSF for children, age 6 to 59 months, and pregnant women and lactating mothers.
The implementation will focus on five health regions of the country namely, North Bank, Central River, Upper River, Lower River and the West Coast regions. For the North Bank, Central River and Upper River regions, the TSF programme will target 28,000 children and 12,500 pregnant and lactating women in 72 food distribution centres. In Lower River and West Coast regions, a total of 14,500 pregnant and lactating mothers will be targeted.
Recent evaluations of TSF programmes have shown that when enough food is delivered to and consumed by young children in need, these are effective in preventing growth failure; protecting against the negative effects of diarrhoeal diseases on child growth; and improving educational performance, in later years, the release stated.
According to the release, "the TSF project as an intervention at the community level will help to contribute towards sustaining the gains registered in the reduction of under-five, child and infant mortality, as well as help to improve maternal health in the country.
"The WFP country office have been contributing to The Gambia's achievements of its health-related MDG targets, and the commissioning of this project is a true reflection of this partnership aimed at the reduction of child and under-five mortalities related to malnutrition and hunger, as well as contribution towards improving maternal health and nutrition outcomes. All these strategies are in line with the Vision 2016 agenda aimed at making The Gambia a well nourished and food sufficient nation", the release added.
"Furthermore, the TSF programmes can be viewed as investments in the future, for they lead to adults with a greater capacity for healthy, productive lives. Interventions that prevent growth failure in early childhood can be expected to have a range of important short- and long-term benefits and, most importantly significantly contribute to the Vision 2020 agenda as well".
EndFragment
Read Other Articles In Article (Archive)