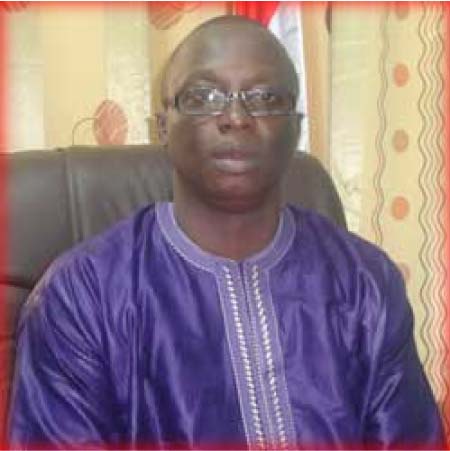 Health and Social Welfare Minister Omar Sey has called for encouragement of more youth participation in sport and agriculture to get them to contribute more positively to the development of the nation.
Hon. Sey made these remarks while speaking to reporters during the Serrekunda West Super Cup final played on Sunday.
He said his ministry would continue to stage the "Sports for Health" annual event in collaboration with the Ministry of Youth and Sports.
The Health and Social Welfare minister, a native of Serrekunda West, said that personally he has a responsibility to contribute immensely to the development of sport in the area, adding that he was pleased to be associated with the zone's committee activity.
Sey challenged youth of the zone to participate more towards the development of the zone and the country at large.
In conclusion he expressed satisfaction with the level of organisation of the final, describing it as "superb and excellent". 
Bai Ndongo Drammeh, PRO Serrekunda West Sports Organisation (SWESO), said Hon Sey had wholly accepted to sponsor their FA Cup trophy, which was "sponsor-less for the past two years".
He therefore on behalf of the Serrekunda West Committee and entire Serrekunda West zone thanked him and urged other natives of the zone to emulate him.
They were very much satisfied with the level of organisation, he added, saying their qualifying round went successful with the Super Cup final.
"We have seen maximum discipline from players, fans and everybody, and this goes to show that there is something instilled in our teams," he pointed out, adding: "It also shows that the level of understanding between the committee and teams is going on smoothly."
They are always learning to grow bigger as a zone as they are one of the biggest in the country, he remarked, adding that they had to put considerations like other competitive zones such as Serrekunda East and Brikama.
They have decided to emulate the format of fixtures of those zones he described as "very successful for them".
They have observed that they usually start their nawetan proper before East but they finish before them (West), he went on, adding that they have as well seen that there is a greater level of participation for youth to showcase their talents with their increment of teams from 25 to 32.
With this new format they will be able to finish their nawetan proper early as well as prepare their zonal team in earnest for the Super Nawetan, he concluded.
Read Other Articles In Article (Archive)