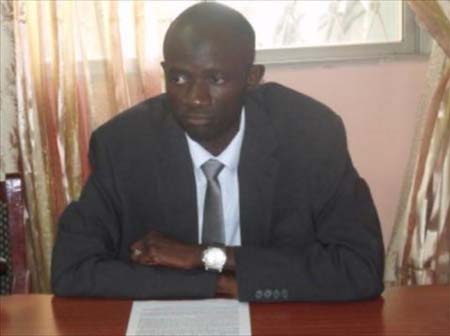 Youth and Sports minister Alieu K Jammeh has urged youths, particularly young women, to be more hardworking and to jealously guard their culture and traditions, "characteristics that underpin our humanity with dignity and strong personality."
Minister Jammeh gave a speech to commemorate African Youth Day, commemorated on 1st November each year by African Union member states.
"We operate in a globalised world with its many opportunities and challenges, and believe that the African young women will stand elegantly tall and proud, prepared to entrench and contribute to the unique African features of love, care, modesty, patriotism and respectability in Africa and the world respectively."
He continued: "This year in The Gambia, the day has coincided with the tragic loss of life of five dedicated, committed, patriotic, and loyal young people in an unfortunate car accident during national duties", he said and, on behalf of all young men and women of The Gambia, paid tribute to them and saluted "their selfless service to the President and country."
"We equally remember those of them nursing injuries, and wish them a quick recovery", he added.
"To those of us still on the journey with the President for national development, we ask you to remain steadfast and fully supportive to the President's undiluted vision", he went on.
This year's theme for the African Youth Day commemoration is: "Delivering on the Potential of Africa's Young Women."
The theme is a prelude to the African Union 2015 Summit theme: "Year of Women's Empowerment and Development towards Africa's Agenda 2063," the minister went on.
"The African Youth Day celebration aims to: Increase awareness, commitment and investment in youth; increase and strengthen youth participation and partnerships; increase intercultural exchanges and understanding among youth; encourage youths to have a stronger role in programme development and implementation to empower their communities", he announced.
Africa is the most youthful continent in the world, he pointed out, with at least 60 per cent of its more than one billion population between the ages of 15 and 35, which experts estimate could double by 2045.
Accordingly, young people are the largest interest group in Africa, he went on, and that it is not possible to initiate and sustain development when large numbers of young people are unengaged productively; harnessing their full potential is necessary for driving the continent's economic transformation.
It is for this reason that the Gambia government continues to invest a significant amount of resources for the empowerment of our young men and women. Specifically, several programmes and schemes have been developed by the government to prepare our young women so that they can acquire essential skills, knowledge and the wherewithal to be active and positive participants in our collective development endeavours, minister Jammeh further stated.
In addition to the private centres recognized and supported by the government, such as the SOBEYA Skills Training Centre for Girls, the government extends scholarships through the Jammeh Foundation for Peace (JFP) and President's Education and Girls Empowerment Program (PEGEP) to support the education of young girls and women, minister Jammeh continued.
"A good number of our young women have maximised these opportunities and many more are making use of them," he said, citing success stories like Ndey Astou Camara, a graduate from the NYSS Tailoring Training Center, who now owns and runs a tailoring center in Brusubi.
Ndey Astou's success has led to her participation in many youth-organized exhibitions under the purview of NAYCONF and GCCI trade fairs.She proudly boasts of many young ladies that she has trained. Incidentally, she was also featured in a TV documentary called "The Gambia in Motion."
Also, Cecilia Sillah who is supported by NEDI is running a Catering Service in Banjul; MJ Hair Dressing in Brikama, and Express Beauty Salon owned and run by a young woman called Mariama Jallow supported by the President.
"As this year's National Youth Conference and Festival intends to excite more youths into entrepreneurship and self employment initiatives, we anticipate that many young women will defeat odds and seize the momentum to be entrepreneurs", he said.
"I wish all Gambians and African youths a splendid Youth Day commemoration. Long live Gambia, long live Africa!" minister Jammeh declared.
Read Other Articles In Article (Archive)