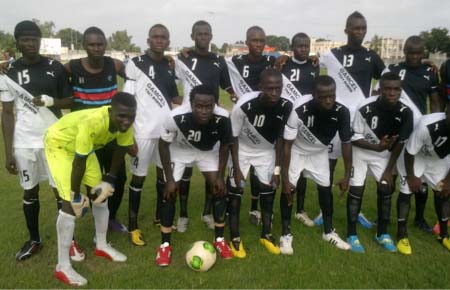 Milan FC were on Friday crowned Serrekunda East Sports Development Organisation (SESDO) Super Cup champions after beating Medina FC 3-2 on penalty shootout in the final played at the East park.
The kickoff of the final, sponsored by Banjul Breweries Limited and witnessed by thousands of football lovers from Serrekunda East and its satellite environs, was taken by the Deputy Mayor of Kanifing Municipality Council, Hon. Sanyang.
As winners, Milan FC went home with a giant trophy and a cash prize of D10,000, while runners-up Medina FC received a consolation prize of D7,000.
Speaking to reporters shortly after the battle, Milan's coach Bakary Colley expressed delight in lifting the trophy describing it as a "big thing" as they have been competing in the nawetan for nearly seven years without lifting the Super Cup trophy.
Being crowned last year's league champions and lifting the Super Cup this year is a huge thing for them, he added.
They prepared well for the final knowing that Medina FC eliminated them in the knockout trophy, he recalled.
Their target this season is to win all trophies, he said, adding that lifting the league and Super Cup is a sign they are ready to compete for and win every trophy this season.
Their main priority is to win back-to-back league titles, coach Colley said.
Milan's policy is always to give a chance to young stars to showcase their talents unlike other teams who give more opportunity to older players, he noted, saying producing young stars will give them an opportunity to overcome all teams this year.
He thanked the fans for being behind the team all this while, adding that they had been supporting the team both financially and also during games.
They didn't expect the game to proceed to post-match penalty shootout as they were a better side than their opponents, he noted, saying they were just unlucky they could not take their chances.
He knew the style of play of their opponents as they train on the same pitch, he pointed out, saying playing against them "is always easy" for his side.
Beating Medina FC is a message to other teams that they are ready to lift the league trophy, he warned.
Sanna Darboe A.K.A SK, head coach of Medina FC, began by congratulating Milan on the victory but added that the game was balanced.
His side could have buried the game during the first period but were just unfortunate, even though they prepared well, he said.
He assured fans that they are going for the league title this season as they have gained experience during the knockout trophy.
They have lost some of their experienced players, Darboe said, quickly adding that they are a complete team and any player who proves himself is assured a place in the squad.
They select their team based on merit, he went on, saying he had confidence in the players he selected for the Super Cup final describing them as "all fantastic players".
He knew the final was going to be well-contested after they eliminated Milan during last year's knockout trophy, he also said.
They would go back and rectify their mistakes before their opening game of the nawetan proper, he remarked.
At Serrekunda East there is no easy game, he observed, saying they would prepare better to collect maximum points in their opening game of the season and dedicate it to fans.
Read Other Articles In Article (Archive)