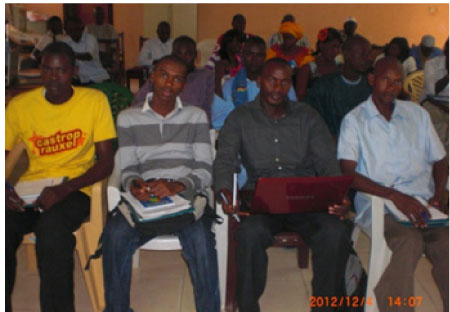 The Rural Finance Project (RFP), a project from the International Fund for Agricultural Development (IFAD) ongoing three projects in The Gambia at the weekend ended a four-day intensive training on Agricultural Lending for micro-finance institutions operating in the country.
The synergy, which assembled participants from different micro-finance institutions in the country, is meant to equip them with knowledge and skills to be able to establish a viable agricultural lending operation and to further improve service delivery at different micro-finance institutions in the country.
The training, held at Wellingara Horticultural Centre was centered on some of the prospects, issues regarding micro-finances as well as practical approaches to agricultural lending.
Lamin Fatajo, Project Coordinator of RFP, said agriculture is blessed to have a tailor-made programme on product development, for which the just concluded trainees are the first core people to be trained on product development and best practices.
He added that micro-finance and agriculture are synonymous; finance is a leading factor in agricultural development.
He challenged the major micro-finance institutions to come up with a pilot plan on agricultural lending before the end of the year in improving the livelihood of the rural poor.
According to him, they are planning to pilot a project; therefore, he said incentives would be given to those who provide their plans on time.
Fatajo further disclosed that his project has registered some progress and can now boast of three methodology micro-finance institutions that RFP is designed to strengthen.
"With all the progress registered we still recognise increased unguided use of agricultural credits in the country," he said.
Mr Fatajo told participants that he is expecting to see a change in the micro-finance system in the country, which will be beneficiary to the rural poor and to develop plans to desert challenges.
However, the training, he believes, will make positive impact on the way agricultural credits are being monitored as well as maintaining quarterly reports on credit management.
"I expect to see how you intend to monitor and recover loans from loaners during the course of the four-day interactions," he added.
The training further dwelt on value change approach to agricultural finance, challenges of agricultural lending loan policies and procedures, loan appraisals and disbursements among others by a consultant trainer Patricia Kanyerere.
For his part, the RFP field operation officer and community mobilization officer, Yusupha Nyassi, said the programme was geared towards sensitizing participants on adult learning principles.
These principles, he said, include adult learning methodologies, value chain approach, to agricultural finance and matching VISACA products with financing needs along the value chain.
Mr Nyassi highlighted very important issues regarding the agricultural lending programme which he said is specially designed for agricultural guide for microfinance credit, adding that, they want agricultural expansion in the country to be developed,
He also urged the participants to look on to the programme for agricultural classification to micro-finance.
Ms Kanyerere, a Ugandan from Friends Consulting, who later moderated the workshop, discussed with the participants the importance of sharing ideas, sharing experience among each other as dictates by the workshop objectives.
She explained further the importance of agriculture in Africa, saying majority of Africans depend on agriculture.
She said 80 per cent of the population is involved in agriculture and The Gambia has about 75 per cent of her population involve in agriculture.
Africa, she said, should be able to operate a viable agricultural lending operation.
Kanyerere also dilated on issues of value chain and agricultural challenges.
During the workshop, participants got to learn more about Ag/loan policies and procedures, overview of the agricultural lending cycle, application and screening, loan appraisal, loan approval contracting and documentation and monitoring and follow-up.
Read Other Articles In Article (Archive)