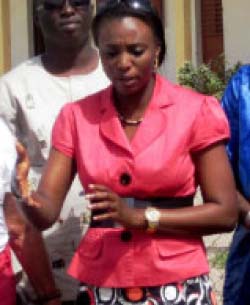 The Ministry of Health and Social Welfare and the World Health Organization Country office in The Gambia, Saturday organised a one-day training workshop for doctors and nurses on management, diagnosis and treatment of Psychiatric and Neurological disorders, at the Tanka Tanka Psychiatric Hospital.
The workshop was held to train nurses to enable them to manage diagnosis and treatment of Psychiatric disorders at their health facilities.
Momodou Gassama, health promotion officer at the WHO, presenting a paper on Global Perspective on Mental Health Reforms at the training, said that about half of the mental disorders begin before the age of 14 years, noting that depression is characterised by sustained sadness and loss of interest along with psychological behaviours and physical symptoms.
Mental disorders are among the risk factors for communicable and non-communicable diseases, he said, adding that they can also contribute to unintentional and intentional injury.
Mr Gassama noted that on average about 800,000 people commit suicide every year 86% of whom are in low and middle income countries.
Stigma on mental disorders and discrimination against mentally ill patients and families prevent people from seeking mental health care, he said, adding that more than half of the people who kill themselves are aged between 15 and 44 and the highest suicide rates are found in men.                                                                              
For her part, Ann Marie Mendy, matron of Tanka Tanka Psychiatric Hospital, said majority of people with mental health problems suffer from the loss in capacitated conditions and these are caused by conditions affecting the brain due to drugs brain injury or pathological changes in brain in the brain, example dementia, mental retardation epilepsy among others.
 She called on the nurses to take history of the patients whenever they are brought to the health facility, adding that this would help them greatly in their work.
Anusi Micheal, a Nigerian TAC, working with Tanka Tanka, also presenting a paper on the warning signs of psychiatric illness, said that among the signs of mental illness are dwelling in an unhygienic environment, sleeping pattern, behaviours, activities of daily living, thinking process, and appetite of the patient.
"These are clear signs to determine that someone is mentally ill," he said.
Read Other Articles In Article (Archive)