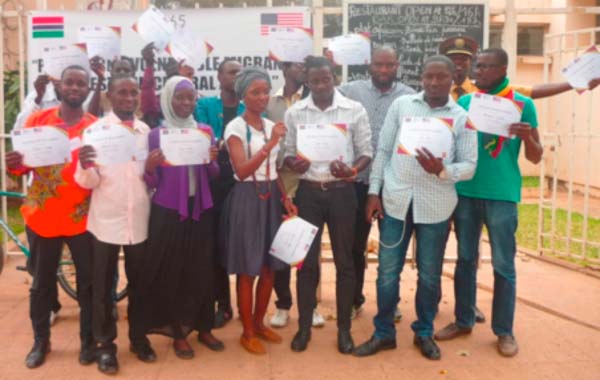 A two-day training course for 15 media personnel on good practice in reporting on migration organised by the International Organisation for Migration (IOM) ended Thursday at the Alliance Franco.

Entitled: "Protecting vulnerable migrants in West and Central Africa", it falls under a regional project, which covers the whole of West and Central Africa, including countries such as Ghana, Burkina Faso, The Gambia and Senegal.
These countries are also benefiting from the capacity-building activities for government actors, civil society and the media.
The media play a crucial role in transmitting the right information, and training was being provided in order for journalists to be able to play their role and adequately cover migration issues.
They need to have a broad understanding of the subject, a proven knowledge of the concepts and terminology of this topic, as well as a set of guidelines on different issues and on type of media coverage.
According to the organisers, journalists must avoid the "biased and undocumented" treatment of these issues, sensationalism, stereotypes, simplification and generalization, which was the reason for organising the training course.
The training course focused on how to communicate on migration issues and respect the rules of confidentiality.
The main objective of the workshop was to better equip media professionals, to have a better understanding and communicate on key concepts and terminology of migration; strategies to address the challenges of respecting the rights of all migrants.
Malick Jones, deputy permanent secretary at the Ministry of Information and Communication Infrastructure, in his opening remarks, said reporting on issues by journalists is not something impossible rather it is a yearning and consistent endeavour to seek knowledge through training and research to reporting guidelines.
He stated that the training course was timely, and the content would further boost journalists' ability to deal with the issue of migration and human trafficking.
He challenged journalists to thoroughly pursue reading and documentation and research on issues to further pursue their knowledge on the issue of migration after the training course.
The issue of migration has a very long history, he went on, adding that migration today is more complex as it includes human trafficking, modern day slavery, among other forms of migration.
Mr Jones said there are many reasons why people choose to migrate and, therefore, encouraged journalists to play their role adequately in their coverage of migration issues.
Ansumana Jawara, head of IOM Gambia office, said the West and Central Africa region has a long history of intra- and extra-regional migration.
West Africa, in particular, he added, has the highest intra-regional mobility in sub-Saharan Africa due to the free movement protocols in the Economic Community of West African States (ECOWAS), which facilitate population movements within this community.
With a rapidly growing population and a high percentage of young people under the age of 35, most countries in West and Central Africa, are subject to socio-economic challenges.
Security and environmental factors that promote population displacement, and provide a powerful incentive for migration along the migratory routes the vulnerability of migrants are increasing.
Having left their traditional environment and lacking the protection normally provided by their communities, migrants often find themselves at the mercy of criminal networks that set up exploitation mechanisms, in order to illegally profit from the most vulnerable of them.
Read Other Articles In Article (Archive)