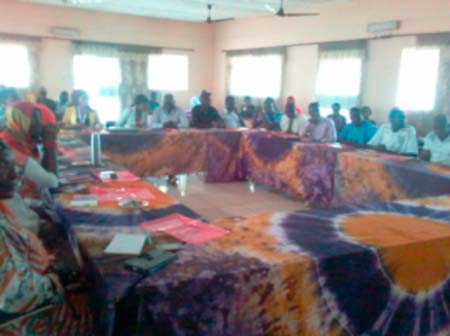 Media Agenda, a non-profit media training and Research NGO established in 2006, on Monday commenced a five-day training for 50 journalists drawn from 9 community radios and 16 commercial FM radios across the country.
The training underway in Juffureh, North Bank Region, is aimed at promoting media independence and pluralism as well as development of community media with particular focus on FM radios as the 2016 elections approach.
The training is funded by the US Embassy to the tune of D500,000 geared towards enhancing the capacity of participants that will ease their work.
Speaking at the opening ceremony, Madi M.K. Ceesay, Director of Media Agenda, said the US Embassy and Media Agenda have had a long-standing relationship since the inception of Media Agenda in November 2006.
"Apart from National Commission for UNESCO (NATCOM) who was the first funders for a training of over 200 print/electronic journalists, spread within 6 months; the US Embassy was the second to fund an intensive Human Rights training for 12 senior Journalists," he said.
He added that Embassy also funded one week training for security and media personnel in 2008. He said in that training workshop Media Agenda was able to get participants from all sectors of the security people from the Army, NIA, Prison, and the Police. He said the fall fences between the security and media.
"The training will have a positive political impact on the populace as every household or individual has a radio set, as there cannot be any useful tool to bring development to the population other than the radio," he said.
The training will equip and capacitate the radio journalists with programming and production skills, for them to be able to run programs that will have positive influence on the minds of the masses.
The training also looks at quality programming, presentation, news collection and writing skills among many modules, he said.
He thanked the US Embassy for their support.
Yusupha Bojang, National Coordinator Network of Community Radios the Gambia, said the network was established as an umbrella organization to serve the interest of community radios across the country.
Community radios are widely listened to by the community because the presenters speak their own languages, he said, adding that it is also believed that they are radios of proximity and are strong tool used for advocacy.
He however highlighted some of the challenges faced by community radios such as the lack of proper gadgets like recorders, electricity supplies and sustainability and urged all to support community radios in the country.
Amadou O. Bah, a participant and Bwiam Community Radio Manager, said the training is timely as it will help community radios to expand in their programming.
He said the equipment will also help ease their work in terms of collecting information.
He thanked the US Embassy for their support and promised to participate fully during the five-day training.
Read Other Articles In Article (Archive)