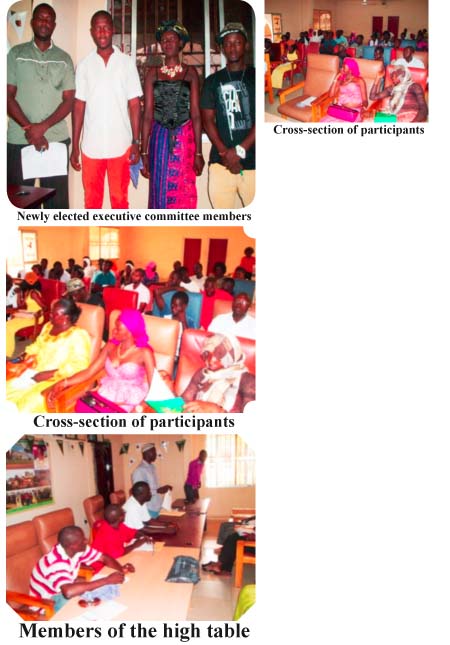 The youth of the capital city Banjul recently elected a new leadership committee to steer the affairs of Banjul youth for the next two years.
The election held at the Banjul City Council chambers on Saturday, was facilitated and coordinated by the National Youth Council and representatives from the Ministry of Youth and Sports.
The new committee members are Momodu Lamin Bah as chairperson, Muhammed Sailu Bah, vice chairperson, Isatou O. Jallow as public relations officer, and Abdoulie Krubally as treasurer.
The occasion also witnessed the presentation of the activities report by the outgoing committee, which was adopted by the general assembly.
Speaking on the occasion, Lamin Darboe, Executive Director of National Youth Council (NYC), said the event was significant, as it empowers young people through the democratic process.
"Decision is often taken and we asked why we are not part of it, but the National Youth Council is here to bridge that gap," he said.
Mr Darboe described the gathering as one of the highest decision-making bodies of young people in Banjul.
He added that it was a constitutional mandate for congress to be held throughout all the regions biennially.
"Let's give democracy a chance in surrendering our will, voice and power to those whom we the young people have chosen to represent us at the national level," he stated.
In his introductory remarks, the outgoing chairperson, Sulayman Bah, said the congress should have been held last month, but was obstructed by some constraints.
He expected the new committee to collaborate effectively with the NYC, the Banjul City Council and the MOYS in the development of Banjul youth.
Mr Bah further cited the challenges the previous committee had faced in performing their duties, such as a lack of internet facility and good printers in the office, and urged the incoming committee to work for the benefit of the association.
Essa Faye, Councilor Portuguese Town representing the Mayor of Banjul, highlighted the significance of young people organizing themselves, and be part of the decision-making processes.
He reaffirmed the council's commitment towards the development of young people.
Read Other Articles In Article (Archive)