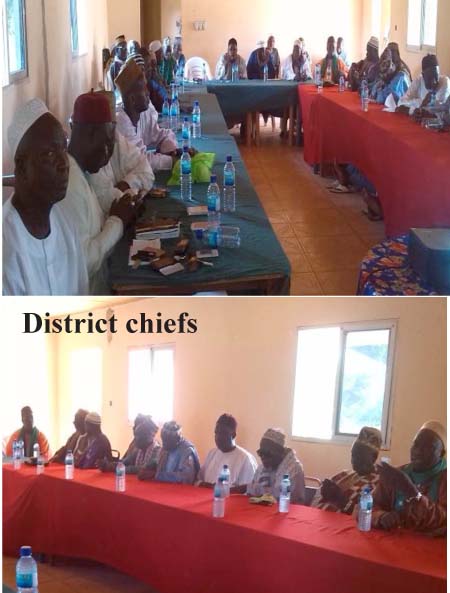 The Health Promotion and Education Unit of the Ministry of Health has continued to intensify efforts at keeping the deadly Ebola virus at bay from The Gambia.
The unit, on Friday, held a sensitisation meeting with district chiefs as part of its continuous Ebola awareness campaign across the country.
The daylong forum, held at the Bwiam Lodge in the Foni Kansala District of the West Coast Region, was aimed at equipping the participants with knowledge on Ebola to facilitate community interventions in the prevention of the virus.
Director Health Promotion and Education Modou Njai said chiefs are instrumental in complementing the government's efforts on adoption of best practices, hence the need to raise their awareness on the deadly disease.
He urged the chiefs to report any suspected case of Ebola to the nearest health facility for appropriate action to be taken.
Mr Njai said the campaign against Ebola calls for concerted efforts of all and sundry.
While urging the district heads to promote regular hand washing, Mr Njai told them to advocate for positive behavioural change in their respective districts.
The deputy director of Health Promotion and Education, Sanjally Trawalley, said district authorities play an important role in disseminating messages in the districts.
District chiefs can effectively contribute to positive behavioural changes, he added.
Mr Trawalley thanked the World Health Organisation and the World Bank for providing funds to complement the Gambia government's efforts at strengthening public awareness on Ebola.
He informed the participants about the 1025 hotline service launched to enhance timely response and management of any suspected Ebola case.
The Paramount Chief of The Gambia, Alhaji Demba Sanyang, called on the chiefs to support the dissemination of information on Ebola to contribute to maintaining Gambia's Ebola-free status.
Chief Ebrima Tamba Jammeh of Upper Badibou said the chiefs will help in strengthening community outreach awareness on Ebola.
Read Other Articles In Article (Archive)