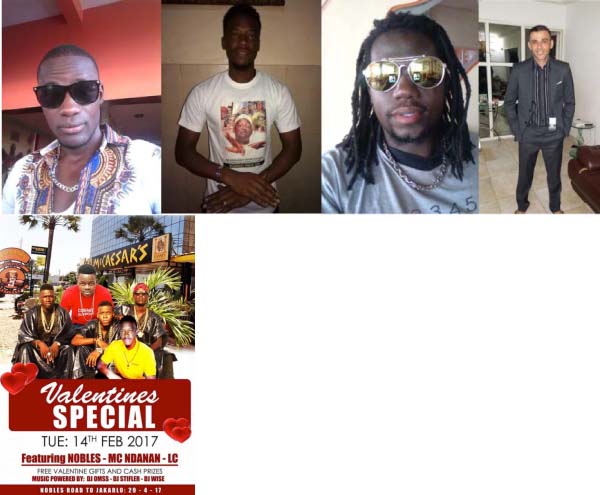 More restaurants, hotels and night clubs are making waves to entertain their customers by inviting artistes on stage to perform and attract customers.

McCaesars, which is one of the most famous restaurants in the country, is doing everything possible to promote talented Gambian artistes.
In a chat with The Point Entertainment and Lifestyle over the weekend, Abdoulie Baldeh, Communications Officer at McCaesars Restaurant, said they are doing everything possible to promote underground artistes so as to entertain customers. He added that the restaurant has been operating for five years.
"In McCaesars, we feed, promote and entertain customers through music because artistes perform on stage every Saturday and we also do free shows for artistes so that they can showcase their talents. We also have a label artistes whom we are working with but we are also open to people outside in case if they need any assistance in Gam music," he said.
PRO Baldeh said they also receive complaints when artistes are performing as the sound disturbs people in the sounding area.
He added that they are also trying to help the youth to get what they want and promote Gambian music. He added that the majority of their staff are Gambian.
Every Saturday, he said, "McCaesars is full to capacity, especially when artistes are on stage performing." He added that they offer both African and European dishes and aim to always offer a reasonable price to customers.
Melody M, one of the label artistes at McCaesars told this paper that the restaurant is a "One of its kind" in The Gambia.
He added that McCeasers is there to promote Gambian artistes and lauded the venue for its work promoting Gambian artistes and Gambian music, stating, "We really thank McCaesars for the good efforts that they are doing for Gambian artistes and call on other business places to emulate them."
Melody M released his first album in 2009 and since then he has released singles. He is working on his second album.
He thanked all Gambians, including his fans, who supported him for the past few years.
"At first, we did not receive any support but now we are getting support and Gambian artistes work so hard, together with Gambian promoters, to make sure that Gambian music reaches higher heights," he said.
Mamadou Lamin Camara, a waiter at McCaesars, said the restaurant is not only looking for customers but also to promote Gambian artistes.
He added that people always love to visit the place, thanks to the owner, Mahammeh, who is open to everyone in the country.
Read Other Articles In Article (Archive)