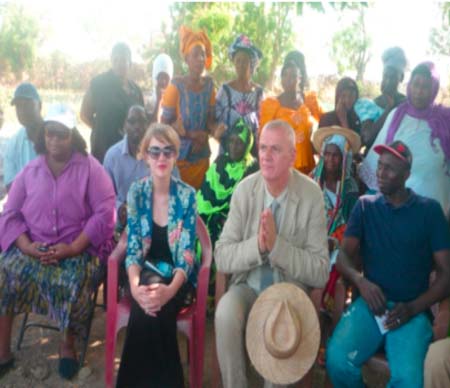 Issue Tuesday 22 March 2016
The European Union Ambassador to The Gambia, Attila Lajos, has said International Women's Day is celebrated on 8 March each year, but women should be celebrated every day.
Ambassador Lajos made this remark on Wednesday at Fangkaso Marketing Federation project site in Janjanbureh, while on a visit to EU-funded projects.
The visit to the project sites was led by EU, FAO, Concern Universal, NAOSU, Ministry of Finance and Economic Affairs and implementing partners AVISU, WIG and FANGSOTO.
The visit also witnessed the handing over of three motorbikes purchased by the project to three marketing federations, as well as the launching of the market information system imbedded with information from five major markets in the country, covering nine major vegetable crops and developed in three languages (English, Mandinka and Wollof).
He said he felt honoured not only to visit the successful project sites, but also to celebrate the successes registered by women.
The EU ambassador pointed out that when chances are given to people (women especially) they take it and make it beneficial for themselves and their families.
He congratulated them and also thanked all for making the project a success story.
The EU is ready to remain positively engaged in developing cooperation with the people of The Gambia and the Government of The Gambia, he went on, adding that he looks forward to continuous cooperation between the EU and Concern Universal for the benefit of the people of The Gambia.
On the launching of the market information system, he said, information is power and by giving access to information to women 'you are empowering them.'
"The more power we give to women, the better for all of us," he said, adding that the women are expected to make best use of the system.
Ismaila Jarju, head of programmes at Concern Universal, said Concern Universal has been in partnership with the EU for 23 years.
He added that under the project, they were able to train 120 groups in CRR North and South, as well as in the West Coast Region.
He added that two marketing federations were also established in CRR North and South in addition to FANGSOTO.
Mr Jarju also said the project was able to support women by helping them develop 100 business plans of their own, adding that they were also able to establish a market information system through their EU-funding where 400 farmers are connected.
He said 13,000 members were registered with the three marketing federations, and 90 per cent are women.
Fatou Nyabally, president Hewal Marketing Federation in CRR North, said if they had received such support previously they would have been rich farmers.
Ms Nyabally noted that the ultimate objective of the EU, Concern Universal and partners is to help them achieve self-sufficiency and would, therefore, like to thank them.
Angela Jasseh, president of Fangkaso Marketing Federation CRR South, highlighted the efforts and support of the EU towards them, which she said they appreciated.
She also said their challenges include preservation mechanisms and value-added services.
Read Other Articles In Article (Archive)