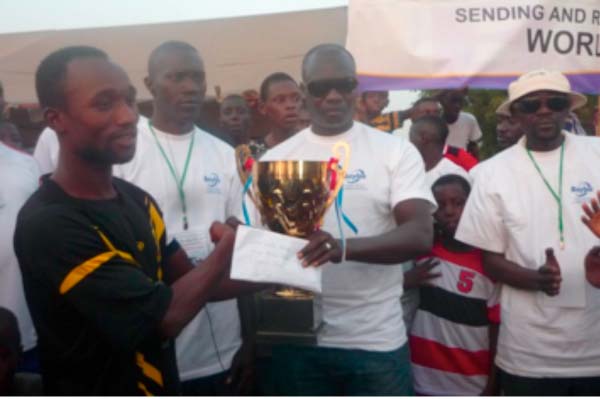 Mbollet Ba FC were on Sunday 27 March 2016 crowned champions of the 2015-16 Bayba Financial Services-sponsored Lower Niumi North Football Association organised tournament following their 1-nil win over Mbankam FC.
Ginadi Drammeh scored the only goal of the game played at the Mbollet Ba Lower Basic School football ground for Mbollet Ba FC in the 29th minute.
As league winners, Mbollet Ba FC went home with a giant trophy and a cash prize of D15,000 while runners-up Mbankam FC received a consolation prize of D10,000.
Missiranding FC were voted the most discipline team of the competition and were therefore rewarded with a trophy and a cash prize of D1,000.
Amadou Jallow of Amdalai FC was named the leading goal scorer of the tournament.
Certificates of appreciation were also presented to Bayba Financial Services – sponsor of the tournament, Wally Bun Corr – knockout sponsor, North Bank Regional Football Association, Mbollet Ba Lower Basic School and the Family of the late Ya Sainabou Sarr – sponsor of the most discipline team.
Speaking to reporters shortly after the game, Macodou Njie, President Lower Niumi North Football Association described the tournament as significant, adding that initially players were moving out of the zone to play football but now they can stay during the rainy season to help their parents on their farms as well as play football at the same time.
"We are not only playing football but also trying to develop a regional team which will represent the region at regional level as well as in future Super Nawetan competitions," he pointed out, saying they wrote for recognition last year at the Gambia Football Federation through the Super Nawetan Organising Committee and were well-received but due to one reason or the other they were not considered for the competition.
They are looking forward to representing the region in the forthcoming Super Nawetan tournament to showcase their talent as a zone, he noted, saying they have already commenced preparation.
They will be the underdogs with a difference in the Super Nawetan competition if included in the competition, he added, saying they are working on putting in place all necessary logistics. 
Read Other Articles In Article (Archive)