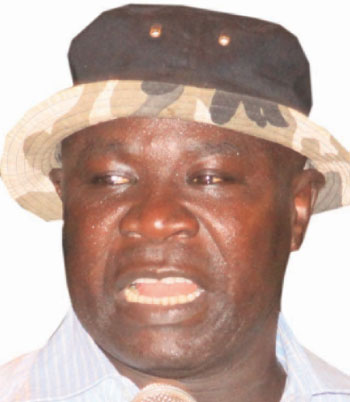 The newly-elected mayor for the Kanifing Municipality, Yankuba Colley, was yesterday sworn in for another term alongside 17 other elected councillors and six nominated councillors.
At a ceremony held at the Kanifing Municipal Council (KMC) grounds presided by over by Momodou Aki Bayo, minister for Regional Governments and Lands, Yankuba Colley told ruling APRC party supporters that his mandate will be driven by a four-year strategic development plan that was developed to bring about constructive and sustainable development to the doorsteps of the people of the municipality.
Colley, who retained his seat after defeating Sheikh Omar Saho in Local Government election held on 4th April 2013, also vowed to contribute immensely to the attainment of the short, medium and long term development aspirations of the central government.
He noted that the decisive victory of APRC in the election is a clear renewal of faith in the government of the day, by genuine and patriotic Gambians across the country.
'He speaks of the confidence the Gambian people continue to repose in the APRC regime, and what it truly stands for,' he stated.
'As I assume office today, I remain more committed than ever before to the legendary ideals and inspirational values of President Jammeh and his government,' Colley added.
According to him, the new council under his leadership will place a high premium on making sure that public funds are ploughed back to the public in the form of responsive services within a broader framework of providing efficient local governance for the people of the Kanifing Municipality.
Colley further stated that he cannot be more grateful to President Jammeh, whose endorsement, he said, made it possible on both occasions for him to contest and win elections on the prestigious ticket of the APRC.
The Minister in congratulating the newly-elected mayor and councilors, assured them of his ministry's readiness to work with them.
Noting that President Jammeh and the entire government accepted the election results and respect the voice of the people of the Kanifing Municipality, Bayo assured the new mayor and his team that the government will support and work with them by responding to the needs and aspiration of the municipality.
Dawda Sey, outgoing chairman of the interim management committee, welcomed the new mayor and councillors and assured them of their support at all times.
Momodou Jaiteh of Kololi ward was unanimously elected as deputy mayor.
Read Other Articles In Article (Archive)