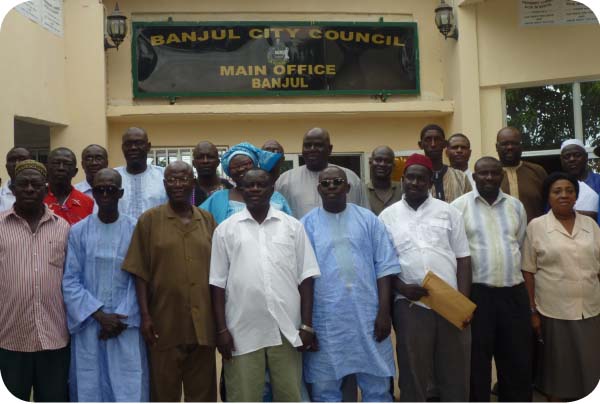 The Mayor of Banjul, Abdoulie Bah, has challenged Banjulians to redouble their efforts and take the lead in national development.
Banjul being the capital city of the country is expected to take the lead in national development and other regions learn from the capital, he said.
Mayor Bah was speaking, when he delivered a statement to open a three-day mid-year finance retreat organised by the Banjul City Council, BCC, at city hall on Monday.
The purpose of the retreat is to audit themselves on their responsibilities, as elected representatives of the people, he added.
This was very important for Banjulians, because they needed to know where and how their council's revenue was being used, he continued.
While assuring BCC staff that they have his support at all times, Mayor Bah called on the participants to make the best use of the retreat.
Kejaw Darboe, assistant director at the Ministry of Lands and Regional Government, in a statement on behalf of the minister said the role of councillors and staff in the municipality of Banjul was clearly spelt out in the statute books of decentralization.
"Therefore, you are expected to familiarize yourselves and know it well, and ensure that you go by its interpretation."
"This workshop is fundamental, because various staff in the finance department will present a paper on their role and functions," he added.
Mr Darboe said the ministry held a retreat in Mansakonko, "during which one of the fundamental messages put across by the minister is the need for area councils to change attitudes, and be more development-oriented".
He further announced that the ministry and departments under it will hold weekly retreats of the senior management to look into and update their annual work plans.
"It is, therefore, my pleasure to commend the Lord Mayor and the entire management of Banjul City Council for being on the right track. This should make a difference because the constraints highlighted here will enable management improve on their strategies in revenue generation and control mechanisms".
The local government official declared that "councils are now perceived as full stakeholders of economic and social development. They are expected to fulfil the government mission of continuity, presence and proximity, and are also expected to handle the consolidation of the necessary spatial and institutional environment for the actions of economic operators."
He concluded as follows: "It is generally believed that a government that is closest to the people is the government that works best. This in theory is the basis for renewed emphasis on local governance and decentralisation".
BBC CEO Mustapha Batchilly, and Abdoulie Nyang, the director of Finance at the city council also spoke at the ceremony.
BCC deputy Mayor Awa Sillah-Njie and the chairman of the Finance Committee, councillor Emmanuel Williams were among those present.
Read Other Articles In Article (Archive)