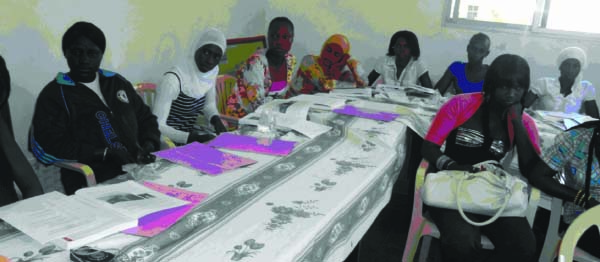 The Gambia National Olympic Committee (GNOC) has continued to dominate the sporting headlines in the print media, barely 3 days after its completion of a weeklong Olympic Solidarity Administration Course for various sporting associations across the country.
The media spotlight was attracted by its recent undertaking of series of important activities which included the launch of the Thank You Small Library Project, the Administration Courses and the Women and Sports Festival.
Next to benefit from the development are the country's female administrators who are for the first time taking part in an administration course currently gathering pace at the GNOC Resource Centre in Bakau.
Alhajie Momodou Dibba, president of the GNOC, who inaugurated a host of activities in the past few days, said he was extremely excited to see women turning out in large numbers to take part in the course.
"The GNOC, for 2011 when I took over office, is more of a political place because of elections but I did promise that there will be a change and thank God there have been tremendous changes in terms of organizing courses and many other significant developments," he added. 
Dibba, who advised the participants to take the course seriously to gain the required knowledge at the end of the training, said: "The IOC is very much concerned about gender equality and leadership in Olympic body and this talks about your role as female sports administrators and coming here today to take part in this course is extremely important because you are going to take the mantle of the leadership role tomorrow."
A big challenge lies ahead of them, he told the participants, adding: "If you want to be a leader, you must be able to manage people, manage your environment, then you will be able to manage your resources properly."
For his part, the executive director of the GNOC, Lawrence Bruce, reminded participants of the importance of the course, saying: "I understand that this is the first time the GNOC is organizing sports administration course for women and one is tempted to ask how comes we have not been organizing the same course as we have been doing for men but I must admit that there has been and will continue to be mixed gender when we organize administrative courses but this is exclusively for women and I hope you will take a lot out of this programme."
He also stated: "When you get into sports administration course, it is not so much of the word sports administration but rather what you do with administration, facilitating, directing and so on.
"This is not the course that after five days you go about your business as usual; it should be something sustainable in your career as sports administrators.
Bruce, who said there would be capacity building programmes, bookkeeping, accounting, recording, events organization and other programmes, also challenged the participants to learn new knowledge and skills they can share with their colleagues who were not part of the course.
Also speaking at the opening ceremony was Lamin Sanneh of West Coast Region, who is one of the course directors.
He said: "This course is part of the GNOC's ambition to transform the country's sports administrators into becoming well experienced and equipped administrators and managers.
He continued: "The GNOC has realised that in most cases, men are given more opportunity than women and this is why they decided to shift attention to women so that they can equally be trained on this specific area of sports management."
Sanneh implored the participants to do well in the course to receive the course certificates, which "is recognised internationally".
Read Other Articles In Article (Archive)