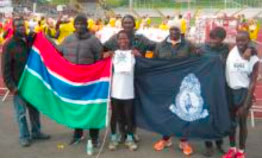 As a result of her performances during her visit at the Sheffield Half Marathon, BUPA Manchester 10k and the Leeds 10k, she will receive a VIP welcome attended by the written press and TV.
Her efforts thoroughly deserve this media coverage.  The Brufut Marathon Association (BMA) has yet to confirm if her times qualify for national records; however, her positioning within Elite class fields warrants this praise.
In a further step, BMA Chairman Ba S. Jabbi yesterday confirmed that the Brufut Running Club will attend the welcome and participate in a short fun run with Mariama T Jallow to celebrate her achievements.
We ask that all Gambians turn out on the day to give one of Gambia's true talents a heroine's return.
In order to make this type of trip possible in future we invite all companies, charities, organisations and individuals to get involved whether you're in the UK, The Gambia or willing to support the development of Gambian athletes from anywhere in the world. 
If you would like to help please email martinpm_0@hotmail.com
This current visit has been made possible as part of a wider collaboration between Brufut Marathon Association, Friends of The Gambia Association, Gambian Police Force, Brussels Airlines, who donated the return air tickets, and GVT.
- See more at: http://www.brufut-ma.org/
Read Other Articles In Article (Archive)