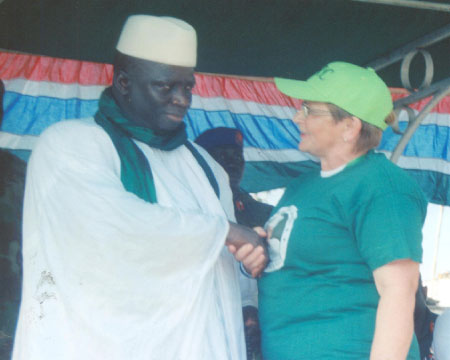 A member of Kembujeh School Friends, has reaffirmed their commitment to supporting more Gambian students.
Kembujeh School Friends is a charitable organisation based in Denmark and currently sponsoring 865 students in The Gambia.
In an interview with The Point, Ingrid Brammer and Ella R Redersew, both members of the charity, said their organization mobilizes funds in Denmark to support Gambian students in their education.
They added that they have been sending containers full of school and hospital materials and clothes to The Gambia two or three times yearly.
He also stated that the organization was formed eight years ago by Jorqon and Anne Marie when they started sponsoring 10 students in the country.
The philanthropists added that since then the number of students they are sponsoring has been increasing.
Ms Ingrid, a nurse by profession, noted that they had the opportunity of meeting President Yahya Jammeh during his election campaign at Bakau, where they briefed him about their work in the country.
"The President was very happy about our contribution to the development of the country," they said. They also said that with the help of official tourist guides they were able to fulfill their dream.
They reaffirmed their resolve in helping more Gambian children.
Buba Darboe, adviser of tourist guides, said he knew the donors three years ago and has always taken them to any destination they wanted to ensure their dreams about The Gambia were fulfilled.
He also thanked the Danish community, adding: "The Gambia is a peaceful country and a nice destination for tourists to come and relax; this is why it is called the smiling coast of Africa."
Meanwhile, during the past two weeks the group members have been busy distributing gifts to their sponsored children in the country and payment of their school fees.
Read Other Articles In Article (Archive)