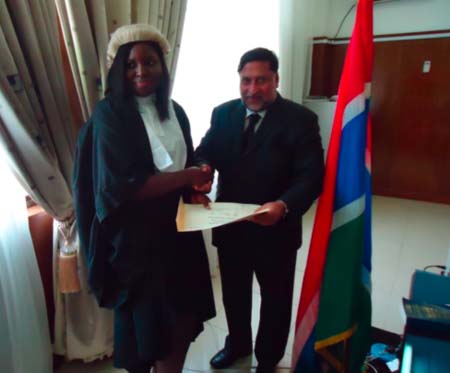 The Gambian Bar has a new member, Mariam Njie, who was on Thursday 24 July enrolled to the Gambian Bar.
The ceremony held at the Office of the Chief Justice in Banjul, who presided, was attended by family members and friends.
Chief Justice Ali Nawaz Chowhan, speaking at the brief ceremony, said the day marked another significant milestone for Mariam Njie.
He noted that the ceremony was an important one, and advised her to adhere to the ethics and values of the rule of law.
The Chief Justice also congratulated her, and urged her to learn from her seniors.
The president of the Gambia Bar Association, Lubna Farage, said the ceremony was a special.
Mariam Njie, in her brief speech, said she was honoured and privileged to be enrolled to the Gambian Bar.
"I appreciate that this privilege carries a corresponding duty to promote, maintain and uphold the administration of Justice and the dignity of the court, and to act with honesty, integrity and unwavering dedication.
"I will be expected to perform to exceptionally high standards, and I welcome all the new challenges that are bound to come my way," she added.
"To my parents, I say thank you for your tender love and care, moral and, of cause, financial support, and for being so hardworking and for serving as my inspiration.
"I understand that I have taken on the responsibility of nurturing respect for the rule of law, and for serving as a social engineer to lead by example in preserving and protecting the constitution and the laws of The Gambia, and I am determined to get the job done", she further stated.
"I pledge to work extremely hard in the service of the law and those who entrust their affairs into my hands. I am mindful of the utmost duty of care owed to clients, and I pledge to discharge that duty with utmost care and diligence.
"In performing my duties in the service of the law, I would count on the wise counsel, guidance and cooperation of more senior colleagues," Ms Njie concluded.
Read Other Articles In Article (Archive)