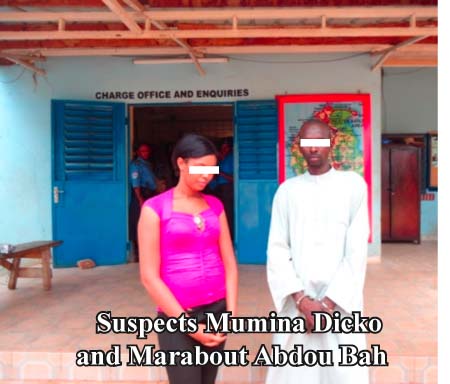 Police have in custody one Abdou Bah, described as a marabout, and a woman called Mumina Dicko, in connection with allegedly obtaining the sum of D1, 559,652 by fraudulent means.
Police public relations officer ASP David Kujabi on Monday briefed the press on the reported "marabout fraud" at Kairaba police station.
He said Abdou Bah from Sinchu Sanjal village is the principal suspect, and was charged with obtaining money by false pretence; Mumina Dicko resides in Bakau and was charged with conspiracy to commit a felony. A third suspect is one Muhammed Bah, who lives in Sukuta and was said to be at large.
PRO Kujabbi said the police are still investigating the matter, and searching for Muhammed Bah.
The alleged victim, from whom the money was taken, was not identified to the press by the police. PRO Kujabi told reporters his name was being "withheld".
This person had problems and decided to go to a marabout for help, according to the police. "The victim was told that he was going to get a lot of wealth…" PRO Kujabi reportedly informed reporters.
Editor's Note: Readers will notice that the "suspects" in this story were identified by the police, but the "victim" was not. As reported, the police "withheld" his name saying they wanted to "protect" the person, our reporter explained when challenged.
We phoned the police PRO to ask why this was the case, but the call was not received.
The police also brought out the "suspects" to be photographed by the journalists, our reporter further revealed.
In handling this story, we noticed that the police PRO also went on to give a lot of details, which we feel are best presented to the court, if and when this case goes to trial. It is a cardinal principle that we should not engage in trial by media!
We have also learned in journalism school that should that happen, counsel for the accused could argue in court for the presiding judge to throw out the case on the grounds that the rights of the accused person(s) were violated! A good judge, given all the evidence, could agree with counsel. So police and journalists, beware!
Read Other Articles In Article (Archive)