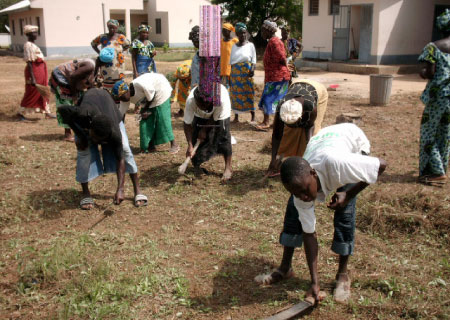 Mansuwanka Society, a community-based organization in Janjangbureh town, Central River Region, recently embarked on massive cleansing and clearing exercise in the premises of the Regional Education Directorate in region five.
Speaking in an interview with The Point, Amat S. Bah, senior education officer, underscored the significance of the exercise.
Cleanliness is next to godliness, he says, adding that a healthy mind is found in a healthy body.
"This exercise was meant to reduce disaster vulnerabilities in the area," he said. "As we are approaching the end of the raining season, the population of mosquitoes has tremendously increased given their numerous breeding grounds and hiding places. Therefore, the chances of contracting malaria and other related environmental diseases are very high."
Cleaning the environment will indeed reduce the population of mosquitoes and consequently contribute towards minimizing the malarial disease, he emphasised.
While commending members of the Mansuwanka Society for their initiatives and the courage to come and offer such services voluntarily, Mr Bah said the organization is one of those that have offered such services free of charge.
He assured the organization of his office's support and cooperation in the drive to protect and keep the environment clean and tidy for the benefit of all.
He also called on other organizations to emulate Mansuwanka Society in the crusade to protect and promote healthy environment.
For her part, Aja Hangila Jassey, chairperson of the organization, revealed that the exercise was meant to promote clean and healthy environment for the interest of all, thus reducing the chances of one contracting environmentally-related diseases.
"Cleaning potential areas of mosquito breeding would definitely reduce the spread of malaria in the area," she said.
According to her, Mansuwanka Society was legally established five years ago with the aim of reducing poverty through food security at household level.
She added that the organization has over eighty active members with women forming the highest percentage of its membership.
She noted that her organization is also involved in income-generating activities such as making soap, tye and die, batik and other items to be able to sustain some of the organization's activities.
Alhagie Kama Sambou, adviser to the organization, commended them for a job well done and for upholding President Jammeh's initiative.
He also urged other organizations to emulate them while calling on all and sundry to clean the environment for their well being.
He thanked his colleagues for coming out in their large numbers to partake in the cleansing exercise to ensure the area is kept clean and tidy.
While applauding all those who took part in the cleansing, Mr Sambou pledged their readiness to support such initiatives in the interest of nation building.
Read Other Articles In Article (Archive)