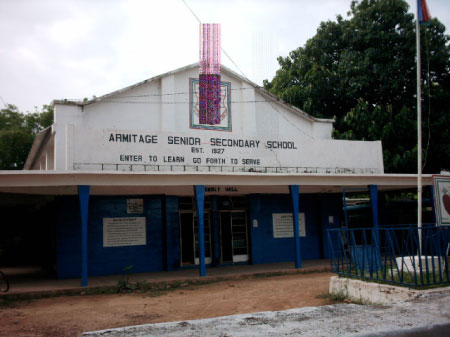 Armitage Senior Secondary School is undergoing a major refurbishment aimed at creating more conducive learning environment for its students.
Speaking to this reporter at his office in Janjangbureh, Sulayman Keita, principal of the school, said the exercise was one of his priorities since he took over the affairs of the school as principal.
According to Mr Keita, a conducive teaching and learning environment for his teachers and students has been a long-time target to ensure they are well motivated.
Good working environment would enable staff to deliver efficiently to the maximum, he said, adding that through the support of the Ministry of Basic and Secondary Education (MoBSE) they have been able to construct three toilets and renovate seven others.
He also revealed that the construction of a new mosque that was supported through the Islamic council at regional level is also in progress.
According to him, the school is also contributing its part by providing furniture for the dining hall, electrical bulbs, ceiling fans, teaching and learning materials, feeding and other items.
He added that Armitage as the only government boarding senior secondary school was founded in 1927 and has over one thousand students, running both morning and afternoon shifts.
Armitage has produced a lot of intellectuals in the country while the government continues to do its bit by providing young people with education.
"It is now the responsibility of the students to ensure that they attend and perform well in school," he added.
Principal Keita further revealed that he would not compromise the academic standards of the school. "I am not going to compromise with academic standards in the school," he stressed.
He urged the students to make the best use of their opportunity and the conducive learning and teaching environment for both teachers and students. "So I expect high performance in the next assessment test," he said.
Mr Keita used the opportunity to call on NGOs, philanthropists, and ex-students to support the school and complement government's efforts at realizing its goal as enshrined in the MDGs, PAGE and other national documents.
Read Other Articles In Article (Archive)