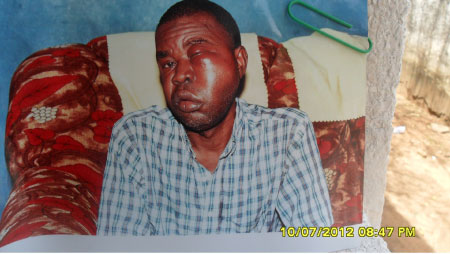 One Lamin Camara is in dire need of help to undergo overseas medical treatment for an aliment making life very difficult for him.
The Medical Board report on Lamin Camara states that the patient was seen to have 111 Oro-Antral Carcinoma of the left side of the maxilla extending to the right side with involvement of the bucal space on the right side of his eye.
Camara's medical report dated 3rd July 2012 signed by Dr Emmanuel Bambelu, Dr Okafor and Dr Jatta all of  the Royal Victoria Teaching Hospital (RVTH), states that the patient requires maxillectomy as soon as possible after subsequent sessions of chemotherapy and radiotherapy.
He will subsequently need to have an obturator (Prothesis) and future reconstructive surgery (plastic surgery), says his medical report.
His second medical report signed by Dr Miranda Consultant Radiologist at the Royal Victoria Hospital (RVTH) dated 5 February 2012 also indicated that in the left maxillary limb, there is soft tissue mass, isodense involved the maxillary lesion, palatine, lateral cord floor of the orbit, maxillary and etmoidal sinus with destruction of the bones.
"The mass is measuring approximately 6 centimeter in diameter and Mr Camara needs an overseas treatment, after undergoing treatment at Senegal few months ago but no sign of improvement," it added.
Lamin Camara is therefore appealing to the general public, private institutions, government departments and philanthropists to help him treat his illness overseas, as he is the breadwinner of his family.
Meanwhile, anyone who wants to offer help to Camara can call the following numbers or email addresses: (+220) 7506698, 6716698, 9841662, thepoint13@yahoo.com or kassama79@hotmail.com.
Read Other Articles In Article (Archive)