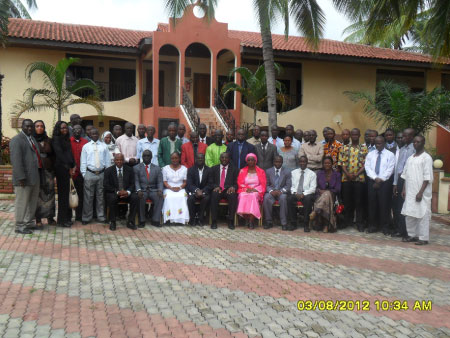 A two-week training course on procurement for staff of ministries and institutions benefiting from IDB funding under the Technical Assistance Grand for Capacity Building in Project Management started on Monday at the Ocean Bay and Resort Hotel, Bakau.
The programme is being funded by International Development Bank (IDB) with the Ministry of Finance and Economic Affairs through GAMWORKS as the executing agency and delivered by MDI.
Speaking at the ceremony, the Director General of MDI, Dr Jainaba Kah, said the training is valuable and timely on procurement management.
She added that the project in areas such as procurement management is valuable because there is need to build and retain capacities and competence for successful project implementation which calls for strengthening of national systems in conjunction with a rigorous service reform.
Dr Kah said the objective of the two-week training is to familiarise senior officials of project implementation agencies and project management units with the policies and procedures of the IDB relating to procurement and disbursements.
"This training is also intended to provide a general overview of procurement processes and procedures with specific objectives, which includes to improve loan administration through efficient procurement and disbursement activities, improve dialogue and coordination with project implementation agencies and other donors and disseminate bank documentation and best practices in project procurement and disbursement," Dr Kah informed the participants.
She said the training is important because public procurement is the principal means of organizing spending of public resources for delivery of goods and services thus; public procurement depends on a number of critical processes which need to function seamlessly for effective results.
For his part, the Director General of GAMWORKS, Ebrima Cham, said as staff working on implementation of these projects, participants will acknowledge that procurement is the spine of managing projects as it is the means to acquire the necessary resources in terms of consultancy services, works, goods and equipment to achieve project objectives.
"This training course on procurement will dilate on and present the rules and procedures governing public procurement in acquiring consultancy services, goods, works and equipment in an economic, efficient, fair and transparent manner that conforms to current international procurement standards and which will finally focus on the IDB procurement guidelines, rules and procedures," Mr Cham stated.
He urged the participants to take the training course seriously to maximize the conducive learning environment which the venue offers and to undertake networking initiatives among themselves to promote post-training learning in the office.
"I expressed my profound thanks to the IDB for funding this Technical Assistant Grant, which will certainly go a long way in bridging the gaps in project management and facilitate our timely and smooth implementation of IDB projects in the country," he said.
Read Other Articles In Article (Archive)