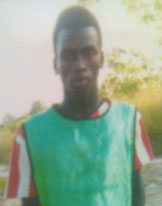 Striker Malang Jassey aka Uncle's lone strike from penalty spot has inspired Alex Sanchaba FC to the 2016 Gunjur Nawettan proper after failing to qualify for last year's nawettan following their woeful performance in the qualifiers.

Tuesday's meeting was the first-ever between the Sanchaba-based outfit and the Tendinto-based outfit in the annual Gunjur summer football fray qualifiers.
Both sides came into the game with the motive of winning and sailing to the Nawettan proper.
It was Alex Sanchaba FC, who succeeded in progressing to the nawettan proper after Gunjur United's talisman Malang Jassey netted the only goal in the game from the penalty spot to send Alex's fans to jubilation at the town's biggest football arena and also to the annual Raining season biggest football jamboree.
Meanwhile, matches continue today, Thursday 14 July 2016, as Hawks are set to clash with Ajax FC.
Hawks made a return to the Gunjur Wet season biggest football gala after several years of absence. They will be battling for revenge after losing Ajax FC to sail to the nawettan proper after losing 3-0 to Amsterdam boys in the league final in 2005, with goals from Ousman Badjie alias Castine Yanka Habib Kunta and Papa Salifu Badjie.
Ajax FC will wrestle hard to beat Hawks in order to sail to the Nawettan proper.
Read Other Articles In Article (Archive)