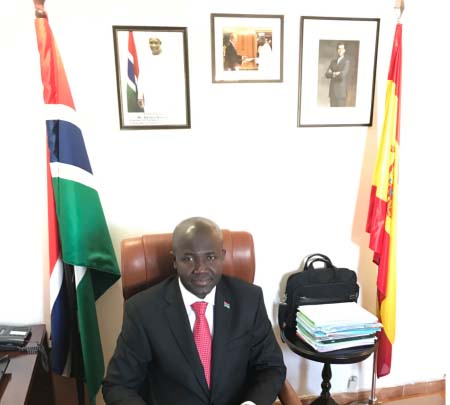 The Gambian Ambassador to Spain has that said his host country has one of the highest numbers of Gambians in Europe, and that remittance from Spain to Gambia is among the highest in Europe.

"The Kingdom of Spain has one of the highest, if not the highest, numbers of Gambians living in any one country in Europe," said Ambassador Lang Yabou who is the Gambian Ambassador to Spain with concurrent accreditation to Italy, Greece, Malta and the United Nations Agencies based in Rome and Madrid such as FAO, IFAD, WFP and WTO.
Mr Yabou said officially, a total of 19,319 Gambians are registered with the embassy in Madrid but "not all Gambians are registered with the embassy, so it is difficult to determine the exact number of Gambians living in Spain right now".
"It is a known fact that the majority of Gambians who came to Spain did it through irregular migration," he said. "But thank God, most of them were able to regularise their status and are legally resident in the country and a sizeable number of them have acquired Spanish nationality."
Ambassador Yabou said a large number of Gambian migrants in Spain, especially those who arrived in the country from the 1970s, are mainly agricultural and industrial workers most of whom have become successful in one way or the other.
"Generally, a lot of them have done very well for themselves both in Spain and in The Gambia over the years," he said, adding that because of the successes of these migrants, the amount of Diaspora remittances from Gambians in Spain is among the highest for The Gambia.
"A lot of Gambians in Spain continue to make personal investments in properties and other assets and today, a number of them have established successful businesses doing retail, telecommunications, travel agents as well as money transfer both in The Gambia and in Spain thereby creating jobs and wealth for themselves, their employees and the society as a whole."
However, not all is rosy with the Gambian community in Spain. Ambassador Yabou said one of the challenges the community is faced with is the lack of adequate amount of investment in education by the community in the past.
"Since Gambians are in their second generation in Spain, the level of their participation and influence in the Spanish society could have been more than what it is today if a lot of them, especially those born in Spain, are well educated," he lamented.
"This continues to be a major concern for the embassy and we have been sensitising Gambians about it. The good news is that the trend is changing with a number of young Gambians in Spain now attending universities and colleges."
Read Other Articles In Article (Archive)