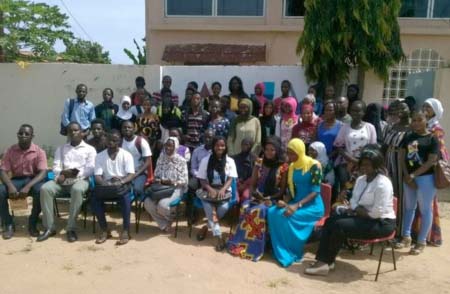 (Wednesday 23rd October 2019 Issue)
Media Academy for Journalist and Communication (MAJaC), Wednesday oriented new batch of students for the certificate and foundation courses; held at the school conference hall in Kanifing South.

The media educational institution aims to build the competence of Gambian journalists to ensure effective service delivery in the media fraternity. It offers from foundation, certificate to advance diploma levels in journalism and communication.
Addressing the new students, managing director Sang Mendy welcome the new journalists for choosing MAJaC to build their careers. "This makes us happy because you have decided to choose us as an institution that would equip you with skills and share experiences with you," he said.
He said one of the principal objectives of the media educational institution is to produce quality journalists that would contribute to the country's socio economic development.
"Without journalists, development will deter because journalists are the fourth estate in every government. Without the check and balance provided by journalists, other players in government would do whatever they wish to do," he said.
He further said that MAJaC would equip the journalists with the skills, knowledge and courage so as to hold government and government officials accountable on their deeds.
Director Mendy revealed that the institution has produced young journalists who are working in respectable media houses as well as government institutions. "80% of our current advance diploma students are all working and some of them are movers and shakers of the day to day news and current affairs in The Gambia," he disclosed.
Mendy, a professional journalist himself, said the institution has highly qualified lecturers who had been working in media fraternity for quite a while, noting that there is no shortcut to success.
He challenged the upcoming students to work harder so as to attain their aspirations, telling them that they must apply perseverance in order to excel. He warned the students to minimize their social activities that could affect their education as well as work.
He assured that the school would provide essential learning equipment for students, necessary training as well as the right environment but said students need to fulfill 85% attendance to sit for exams.
Demba Kandeh, director of training described the media institution as a centre of excellence, saying the institution is looking forward to attain the sustainable development goals for journalists.
He called on the students to exercise mutual respect among themselves and care the school learning materials so as to benefit them and other future students.
Kandeh, a UTG and MAJaC journalism lecturer assured that if any student passes through the institution will be able to work for any media organisation while called on students to fully prepare for the course as it involves hard work.
He advised students to utilize the resources their parents spent on them so as to get a fruitful future.
Mustapha Ceesay, President of MAJaC student union said the union aims to promote the welfare of the students as well as dialogue with the administration.
Read Other Articles In Article (Archive)