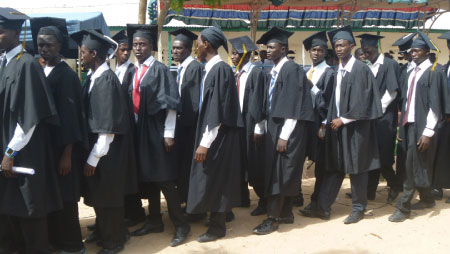 Mahaad Senior Secondary School in West Coast Region over the weekend graduated 210 students at a ceremony held at the school grounds.
The guest speaker of the occasion was Muhammed Jammeh from the University of The Gambia who spoke on the topic: "What next after senior secondary school completion of studies, morality and good citizenship".
According to him, when a student of an academic institution completes his or her studies, the joy, exhilaration, excitement, self-satisfaction and the belief in progress is immense. "The greatest joy appears to come when one completes what is now called Grade 12, in The Gambia and the reason should be that Grade 12 marks a crucial point between senior secondary school and high and tertiary level education"  Mr Jammeh said.
Morality is the differentiation of intentions, decisions and actions between those that are good (or right) and those that are bad (or wrong), he says.
According to Mr Jammeh, a good citizen obeys cultural, moral and religious teachings and norms; accepts rules and values, as well as upholds decent lifestyles, traditions, customs, standards and practices that will make them productive human beings in life.
He said a good citizen also is never intentionally destructive thus good citizenship requires the exhibition of positive attitudes, actions and behaviour.
He advised the graduating students to become good citizens' role model with appropriate morality to enable them to become agents for positive development of our society and nation in particular.  
In presenting his school report before the parents and guidance, the principal of Mahaad Senior Secondary School, Lamin M. Bojang, said occasion of this nature is very important because it marks the end of an educational programme for a given set of students, adding that the 2011/12 school academic year started with a total students enrollment of 1,137 indicating an increase of about 90% compared from that of last year. Boys constitute about 610 students while girls also constitute about 527 students representing 54 % and 46 % respectively.
Principal Bojang advised the graduands to be visionary, prudent in taken matters, focused and hardworking if they want to achieve better in life after school.
There are lots of opportunities out there for you, you only need to be witty enough to exploit them and then things will work out for you," Principal Bojang told graduating students. 
He urged the students not to join the groups of youth who are involved in gambling or drug trafficking. "Be architect of your own future and destiny," he said, adding: "Your attitude will determine your aptitude."
Chaired by Lamin Fatty, History teacher of the school, the occasion was graced by the proprietor of the school, Alhagie Banding Drammeh and other Islamic Scholars within and outside West Coast Region.
At the end of the occasion certificates were given to deserving students and teachers for their hard work and dedication, while the vote of thanks was delivered by Demba Mbaye, the outgoing student.
Read Other Articles In Article (Archive)