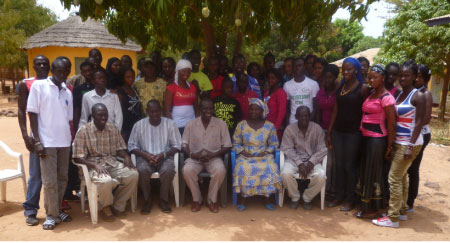 The Gambia Family Planning Association (GFPA) last week trained members of the Youth Action Movement (YAM) and Youth Peer Health educators on sexual and reproductive health and rights.
The training, held at Pakalinding in Lower River Region, also discussed issues including HIV/AIDS information and the need to promote voluntary counseling and testing among adolescence and young people.
Sponsored by UNFPA, the five-day training brought together 40 participants from Kanifing Municipality, West Coast, and North Bank regions.  
 In his opening remarks on the occasion, Yankuba Dibba, executive director of the GFPA, said the workshop was organised by his office to build the capacity of the participants on reproductive health and rights.
According to him, unlike before, young people today have the opportunity to learn about disdainful issues as STIs and teenage pregnancy.
He urged the participants to take the training seriously and share the knowledge gained from it with their colleagues.
For his part, Musa Jammeh, programme manager, said the training was geared towards strengthening peer health education programme, which some of the participants were already exposed to.
For his part, Babucarr Penn, chairperson, KM YAM, said the training was very important to them and after the training they would engage them by providing bicycles to every region courtesy of UNFPA and they will assign coordinators that will monitor their activities.
He said the GFPA is a voluntary organization and YAM is a branch under the GFPA, adding that their work is purely voluntary.
He also says to their advocacy the target group is young people, especially the teenagers because they are more vulnerable and are the future leaders, so if they are not sensitized to know their sexual and reproductive health and rights and if they are infected they cannot be reproductive in the future.
"HIV is on the increase nowadays and it is becoming a thorn in our flesh and as YAM members we want to pull it back and other STIs but HIV is our main constraint," he said.
He added that they are ready to take up the crusade to have a HIV-free country.
Hayatou Badjie of Bwiam said HIV is still existing because everyday health practitioners come across new infections and people need to change their attitudes towards that and the best thing is that young people should abstain from all forms of sexual behaviours.
He said: "If you visit the motels today young people are there and they are getting into prostitution and drugs, which can lead them to unmoral sexual behaviours which can also lead them to having STIs including HIV/AIDS."
He appealed to parents to let their children join YAM to enable them know their sexual reproductive health and rights.
Read Other Articles In Article (Archive)