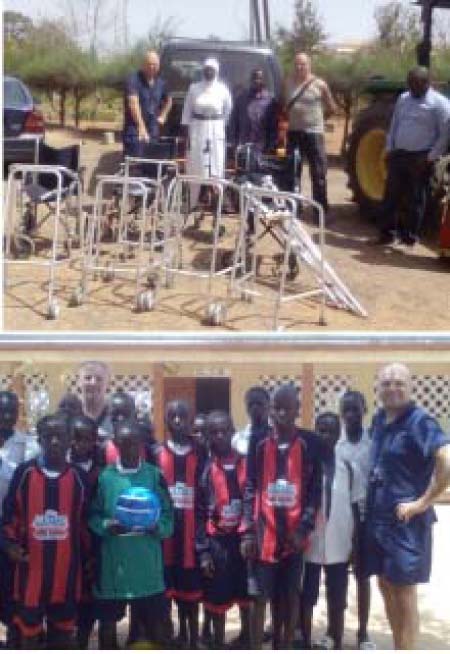 Mad Foundation donated hospital, educational, sport materials among others to Bwiam General Hospital, St. Edwards Nursery, Lower, Upper Basic schools and Fatima Senior Secondary School last Thursday.

The foundation was established three months ago with the objective of helping less privileged and vulnerable groups in The Gambia.
The donated items included wheelchairs, books, jerseys, footballs, football boots, goal nets, trophies, school bags, toys, rackets for tennis and badminton and books among other items worth over D150, 000 in total.
Pa Harry Jammeh, Mad Foundation Legal Adviser, explained that the foundation was established three months ago with the main objective of helping less privileged and vulnerable groups in The Gambia.
He said the foundation initially concentrated on the Greater Banjul Area. Their first donation was made to Tanka Tanka but they felt it was appropriate to extend their generosity to other parts of the country.
He observed that a hospital like Bwiam needs support and that was why they decided to donate to them.
Danny Berwick, president of Mad Foundation, said their aim was to making a difference in the lives of people, adding that they have the connections to bring a lot of materials to The Gambia to improve the quality of people's lives.
"Our target is to reach anyone who needs help," he remarked, saying they hope to continue the gesture in years to come.
He explained that they previously worked with another organisation but had now decided to form their own foundation.
Michael Beard, Vice President of Mad Foundation, said they could do a lot of good things for Gambians now that they have the right people, like Pa Harry Jammeh.
Kaddy Jammeh, Acting Deputy CEO of Bwiam General Hospital, thanked the donors for the kind gesture on behalf of the hospital management, staff, patients and community.
She told the donors that the number of items may be small to them but as a hospital the important thing was the intention of Mad Foundation.
She assured the donors that the items would be put to good use.
Pierre Sylva, vice principal of Fatima Senior Secondary School, expressed delight with the gesture, saying it would go a long way in alleviating some of the shortages they had in terms of books and trophies.
Domingo AS Mendy, Head Teacher of St. Edwards Lower Basic School, also expressed thanks and appreciation to the donors, saying these are things they needed.
The materials, according to him, would go a long way in addressing some of their needs. He said sporting materials are expensive but with the donors intervention they have moved a step forward.
Haddy Gomez, Head Mistress of St. Edwards Nursery School, also joined others in thanking the donors, saying they would make best use of the materials in attaining quality education.
The materials would go a long way in helping the students, particularly toddlers, she noted.
Read Other Articles In Article (Archive)