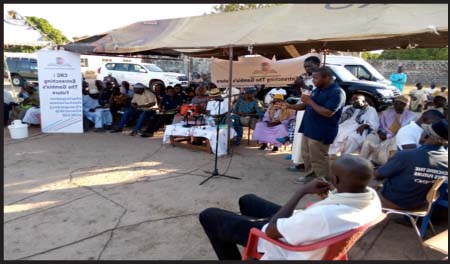 The community of Lower Niumi in the North Bank Region has raised concern on the issue of citizenship in the draft constitution.

Members of the Constitutional Review Commission (CRC) are currently on a countrywide tour with a view to affording Gambians the opportunity to propose recommendations for incorporation into the final draft.
Wally Corr, a native of Fass Njaga Choi spoke at length on the significance of the forum, saying the issue of citizenship was a great concern to him.
He said: "If a child is born in The Gambia and raised in The Gambia for more than 10 years that person should be regarded as a Gambian even if his or her parents are not Gambians. It will not be fair for someone to be born in this country, raised in this country and is not regarded as a citizen of this country. Where will he or she belong to?" he queried.
"We have some people who are holding sensitive positions in this country and none of their parents are Gambians. Where are we going to categorize those people?" he further queried.
He added: "If Gambians who have children outside the country and those children are considered as Gambians, hence there is no reason why children born in The Gambia shouldn't be considered as Gambians."
"The issue of citizenship is very critical and if it is not looked into properly, it will bring confusion in the country," Alhagie Modou Sanneh said.
"If Gambians abroad are applying for dual citizenship and they are accepted, we should also consider other people. Again, women who are married to Gambians should be given citizenship," he suggested, arguing the public servants are corrupt because they are not paid well.
"The salary scale should be looked into and the salaries should be attractive in order to stamp out corruption in the country," he said.
Younusa Gage, opined that if a Gambian married a woman from another country such as Senegalese, the individual should be given citizenship of The Gambia.
According to him, many Gambians have married women from Senegal but those women find it difficult to have access to medication from Gambia's health facilities because they are regarded as foreigners.
He also opined that if a Gambian man marries any foreign national and brings her home, she should be given citizenship.
"If a missing child whose nationality is unknown and is found in the country, that particular child should be given automatic citizenship," Badou Nyang, resident of Dugu Kebbeh opined.
Speaking earlier, Justice Cherno Sulayman Jallow, the CRC boss said the purpose of the second phase of consultation was to afford Gambians the opportunity to be able to contribute their opinions before the final draft of the constitution. "If there is anything that you think should be included or something that should be removed from the draft constitution, then you could raise it out."
Read Other Articles In Article (Archive)