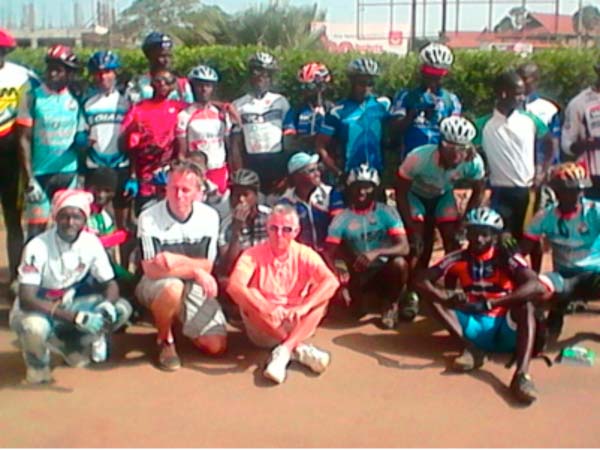 The Gambia Cycling Federation organised its Fourth Edition cycling tour meant for fund-rising.
The event began from Senegambia Trust Bank branch and continued to the Airport Junction in coastal road through Lamin Woodpeck Hotel and back to Lemon Creek Hotel in Kololi.
The event comprised 28 participants among which were professionals and amateurs who are currently training with the federation.
The Holland International, Kommer Van Tright, who is the sole pioneer of the event, said he was happy that he had seen some new faces, which has shown him that Gambians also like cycling.
He announced that "organising a competition is in the pipeline but as for now it is meant for fund-raising.
Kommer also added that organising such a cycling tour would help to popularise the game
Fred Strallven and John Vermellen, who are co-pioneers, were basically responsible for supplying the federation with cycling gears.
Baboucarr Jabbi, secretary general of the federation, briefed journalists about the federation, saying it had been in existence since 1988.
"The event is an annual one organised by Kommer Van Tright from Holland and is designated to be observed in the month of February," he said.
He expressed concern about the unpopularity of the event, saying "lack of cycling safety gears is the main reason people are not giving attention to cycling."
Mr Jabbai further said that extending cycling programme to other parts of the country is in the pipeline, as they plan and aim to introduce cycling programmes in schools.
Next month, he disclosed there would be a cycling tour from Banjul to Farafenni.
The head coach, Momodou Bah, appealed for support from government, members of the private sector and individuals to assist the federation to achieve its objectives.
Mr Bah, who has won many international medals around Africa, also briefed The Point about their recent trip to Senegal.
Read Other Articles In Article (Archive)