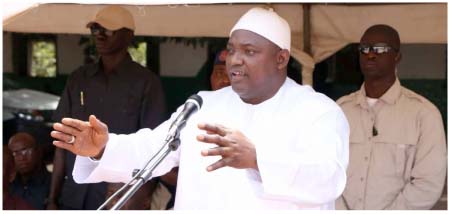 President Adama Barrow applauded the establishment of new parties that are gracing the county's political landscape. He described this as testimony to the dividends of democracy that came through efforts and sacrifices made in the run up to December 2016.

"The sacrifices and efforts we made to bring democracy to this country are today being enjoyed by all. It is grounded on such development for everyone to enjoy its dividends," he told a meeting in Bondali, where an astonishing welcome with drumming, dancing and singing accompanied him to the meeting grounds.
"Allow him to continue the works that he started," goes the lyrics in the song by women. They were dressed in uniforms of white T-shirts and printed wax bearing the president's images with slogans pledging support to his development agenda.
The struggle to free The Gambia from dictatorship was twenty years' long fight, Mr. Barrow recalled. The president was an executive member of the then opposition UDP, and recalled so many instances where people, groups and communities distanced themselves from them just for identifying with the UDP.
He equally congratulated the APRC party leader, Fabakary Tombog Jatta, for coming out to welcome him upon his arrival from the provincial tour over the weekend. "That shows our politics is maturing… we may belong to different groups but we should be able to conduct our politics with maturity," he said, adding: "Whether opposition or government, Gambia belongs to us all."
In Foni, Hamat N.K. Bah, Tourism and Culture minister spoke of the great qualities of President Barrow, whom he said, respects the dignity of all irrespective of tribe, religion or sectionalism. "He sought presidency for three months and succeeded when I tried for two decades," he said of President Barrow.
Hamat Bah asked the people of Foni to rally behind the President and be a part of the development wagon. "It will only ease your aspirations to bring development to your communities. The president is the custodian of the national coffers. Working with him only makes your task of development better," he told a meeting in Kampassa.
Read Other Articles In Article (Archive)