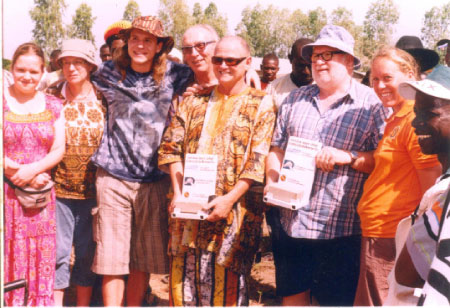 Members of Joint Hands Together for The Gambia in the Netherlands Henk Hendriks and Herbert Damen, with support from their counterparts in the Netherlands, have laid a foundation stone for a new lower basic school in the village of Latriya.
The laying of the foundation of the school was witnessed by Government officials and a cross-section of the community at a colourful ceremony held the village nursery school grounds.
Speaking on the occasion, the project coordinator in The Gambia, Alasan Jah, thanked the donors for their support to the community.
"This is a dream come true for the villagers," he said, adding that the development came to the community as a surprise while thanking the donors for their continued assistance to the community.
Mr Jah explained that every year Henk and Herbert do support the village with school materials and medical equipment.
He also revealed that this year the community is blessed with a special donor called TOON Jansen Info-support Solid Innovator, who supported the building of a primary school block for them to the tune of €8000.00 for the construction of a three-class-room block, office, and store.
The donor is a Dutch national living in Belgium, he said, adding that Joint Hand Together for The Gambia was established since1999 and registered at the Attorney General's Chamber on 24 May 2004 and since the inception of the project its international partners have been very helpful to the community of Latriya and the Gambian people as a whole.
He added that Hand Together, who are the initiator of the new project, have provided the medical health post, a nursery school, a borehole, solar panel generators and other items.
"This project has been supporting needy Gambian children in so many schools," he said, thanking the chairman of the organisation and their donor counterparts for providing the funds to build a primary school in Latriya.
For his part, the Alkalo of Latriya, Burama Darboe, expressed gratitude to the donors.
He described Alasan Jah as patriotic Gambian for bringing the donors to the village. "This project will be taken great care of in the village for its sustainability," he assured the donors.
The chairman of the foundation, Herbert Damen, advised the community of Latriya to take ownership of the project, while thanking his counterparts for giving them a helping hand in supporting the project.
Read Other Articles In Article (Archive)