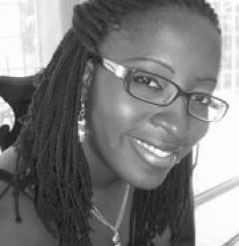 It was a lovely evening reception at the American Chamber of Commerce in Washington D.C, and the moment we met, Claudia and I hit it off right away. We chatted off like long lost friends. She is a young Congolese from Brazaville whom I met in D.C, last year during the President's Forum with Young African Leaders. She is dynamic and works with MTN the official sponsor of the FIFA World Cup 2010 in South Africa. As an exemplary young African Leader, she has shown the Gambia that she is African and it takes more to be a true Leader when we have interest in Africa and its development. This time, she has chosen to visit the Gambia and this is the interview we did together.
Bring it on -  Who is Claudia ?
Claudia - My name is Jacinthe Claudia Dossou (but people usually call me Claudia). I am from the Republic of Congo, not to confound with DRC the Democratic Republic of the Congo. I actually live in a peaceful neighborhood called OCH in Brazzaville. I like travelling and enjoy meeting new people and cultures.
Bring it on - What is your profession?
Claudia - Well, I work at the Corporate Affairs department in a cell phone company called MTN and I am also the foundation's assistant. I guess it is a well known company not only because MTN Group holds 21 operations throughout Africa and the Middle East but it is also due to the fact that the company officially sponsored the FIFA World Cup 2010 that happen to be organized in Africa (South Africa) for the first time.
Bring it on - Tell us a bit about your job at MTN
Claudia - I prefer using the word "we" because at MTN we are a complementary team. You know, big companies always have to work on their corporate image towards public officials, government authorities, international institutions, the Medias who have a huge power in terms of lobbying. As a member of the Corporate Affairs department, internally, our role is to make sure that our five pillars or values of Leadership, Innovation, Relationships, Integrity and Can do (LIRIC) attitude are always emphasized among the staffs by encouraging them to remain creative, in an cross cultural environment with respect to moral values as each staff is a potential ambassador of the MTN brand not only at work but also in their daily life and homes in compliance with the company's wish to be the leader in emerging market.
Externally, MTN Group has various foundations throughout its 21 operations and is able to reach out communities as they are essential for the growth, development and success of the business. In order to give back to the populations, MTN runs long term and short terms projects like building sport facilities for school children, installing internet connectivity to improve the digital divide, providing free HIV/AIDS counseling and  building an integrated healthcare center for retired people who have been neglected by the Congolese government.                 
Bring it on - I understand that you were part of the 1OO young African Leaders who attended the Young African Leaders Program. What effect has that programme had on you?
Claudia - The Young African Leaders Forum came out as a great experience which opened doors to various opportunities and connections with more than 100 young Africans throughout the continent and enabled me to be part of a huge community through social networking. Moreover, the forum aimed at strengthening partnership between the American community and the young delegates who went to Washington.
A year after the forum, President Obama's address is still fresh in my mind... Unfortunately the content of his speech should have been daily mottos used by the governments of our countries, our families, friends and peers as a way to encourage the next generation of youth that we represent,  do more in bringing innovation, developing our continent and handling our own destiny. This meeting was actually a call for action and invited us to question ourselves about our own future and think about the ways we as Africans want to shape our continent...  Though change can occur within a day, it takes months and years to settle things down, to educate and bring awareness among a whole nation. The forum was successful in the sense that delegates remained in touch even after the forum and we keep on learning from each other.
Bring it on - I understand that you like volunteerism. What motivated you?
Claudia - Volunteerism is the unseen part of whatever you do without expecting rewards and benefits. It actually started few years ago with "Mama Cindy" (that the way we call our mentor),  Cynthia Gregg, Deputy Chief of Mission in Banjul who initiated a book club in the American corner of Brazzaville, that was when she served there.  With time, it meant much more to me than just discussing about books. I dedicated my free time to share my knowledge in English with other Congolese students every Saturday morning. It was a both way learning with challenges especially when the students are so smart! Altruism is something you don't learn at school and more than ever it is disappearing with globalization today. My students encourage me to give out the best I can to contribute to their education and they help me develop counseling skills.
Bring it on - What do you think about the Gambia?
Claudia - Wahoo!!! Thanks for the question. Congolese people would hardly fly for to destinations such as the Gambia. They rather like, travelling to western countries like US or France for instance. I truly feel blessed. All those long hours in airplanes were not in vain. The country is just so lovely and people are very hospitable. I hope Gambians are aware of their potentialities (smile)! But I encourage young girls to further their education and learn more for their own good. I actually visited the American Corner which offers them a nice library with plenty of books they can read to get more knowledge from. I do believe that education contributes in making us better persons every day. The more educated they would be, the more they would be able to build a stronger nation.
Bring it on- It was great talking to you.
Claudia- It is a pleasure.
Read Other Articles In Article (Archive)