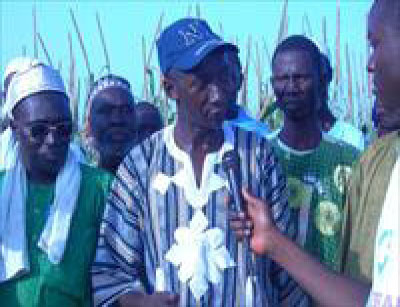 APRC supporters in the Lower Badibou constituency recently celebrated the victory of their candidate in the March 29 National Assembly election boycotted by the main opposition parties in the country.
The Hon. Abdoulie Suku Singhateh's victory celebration was held at Mbamuru Kunda village in the Lower Badibou constituency in the NBR.
In his address at the celebration, Abdoulie Suku Singhateh, National Assembly member for Lower Badibou constituency, pledged to bring about more developments to the people of the constituency.
The celebration was attended by the speaker of the National Assembly Hon. Abdoulie Bojang, Mayor Yankuba Colley of KMC and APRC National mobilizer, Majority leader Hon. Fabakary Tombong Jatta, governor of NBR, chiefs and other APRC stalwarts.
Hon. Suku Singhateh thanked and commended all those who supported and voted for him during the recently concluded parliamentary elections, which has made him Member of Parliament of the area for the fourth time.
The people of Lower Badibou love President Jammeh and the APRC party and they are loyal to the party as well, he said.
According to him, during the parliamentary elections campaign, pledges were made that any polling station that came out first in the voting will host the victory celebration that is why Mbamuru Kunda hosted the event.
Meanwhile, other APRC party militants such as Kebba Marreh of Banoya village, Momodou Jallow, Demba Jallow of Pallen and Alhagie Jagne of Njaba Kunda fulfilled their pledges of one bull each for the celebration.
According to him, other pledges were also fulfilled such as that of Minister Tangara, who gave D5,000, Alhagie Jaw Drammeh D1,000, one Lamin Fatty D2,500 and the MP himself D20,000.
Meanwhile, this reporter has learnt that Hon. Singhateh also donated D100,000 towards the constituency Trust Fund to develop certain areas within the constituency.
He said the constituency has set up a committee that has developed plans and strategies to embark on developmental projects for the people of Lower Badibou.
Hon. Singhateh used the opportunity to thank President Jammeh, who, he said, is a visionary leader, with the country's development at heart.
He noted that President Jammeh and his government are doing everything possible for the people of the country to ensure that developments in all the sectors are brought to the doorstep of all citizens.
For his part, Majority Leader Fabakary Tombong Jatta commended the people of Lower Badibou for choosing Hon. Abdoulie Suku Singhateh based on developments to the constituency during his time.
Mayor Yankuba Colley thanked and commended the electorate for massively voting for the APRC party candidate and assured them of more developments in the area.
Read Other Articles In Article (Archive)